Gibraltar (Britannia)
Talk

0
10,415pages on
this wiki

This Article is Under Construction
This article is currently under construction and/or revamp and will be completed at a later date.
Gibraltar is a territory of Britannia located on the Iberian Peninsula. Gibralatar is not a devolved country, but a territory of Britannia. Gibraltar is an important base for the Royal Navy, which has a large base on the territory.
Government
Edit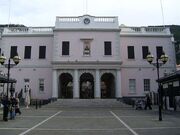 Under its current Constitution, Gibraltar has almost complete internal democratic self-government through an elected parliament, elected for a term of up to four years. The unicameral Parliament presently consists of seventeen elected members, and the Speaker who is not elected, but appointed by a resolution of the Parliament. The Government consists of ten elected members. The head of state is Queen Elizabeth II, who is represented by the Governor of Gibraltar. Defence, foreign policy and internal security are formally the responsibility of the Governor; judicial and other appointments are also made on behalf of the Queen in consultation with the head of the elected government.
The Royal Naval Base at Gibraltar is an important base for Britannian Forces, there is also a Royal Air Force base at RAF Gibraltar, with several aircraft stationed there.
The Naval Base traditionally dominated Gibraltar's economy, with the naval dockyard providing the bulk of economic activity. This however, has diminished over the last twenty years, and is estimated to account for only 7% of the local economy, compared to over 60% in 1984. Today, Gibraltar's economy is dominated by four main sectors – financial services, internet gaming, shipping and tourism (including retail for visitors).
Tourism is also a significant industry. Gibraltar is a popular port for cruise ships and attracts day visitors from resorts in Spain. The Rock is a popular tourist attraction, particularly among British tourists and residents in the southern coast of Spain. It is also a popular shopping destination, and all goods and services are VAT free.