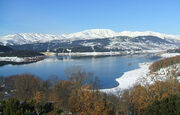 The Haaberg (Lecrotian for high mountain; sometimes called ) is the highest point of Lecrotia. Located in the Gböörg Mountain Range (next to the Ghlainn Plain), the mount is 1,257 m. (4,124 feet) tall. The mount is also located next to the Bergslaħ, the nation's most relevant lake.
The Haaberg was first ascended by Gerardo Ciriglioli and his team, in 1887.
Flagstaff
In 1999, a flagstaff, called Pennone della Libertà (Italian for "Freedom flagstaff") was built at the top of the mountain. The flagstaff is featured in the Lƒ100 banknote.
Ad blocker interference detected!
Wikia is a free-to-use site that makes money from advertising. We have a modified experience for viewers using ad blockers

Wikia is not accessible if you've made further modifications. Remove the custom ad blocker rule(s) and the page will load as expected.