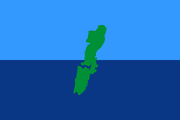 Republic of Twaema Hasu, usually shorted to Hasu, is a constructed country which locates on the island of Tsushima( Hasu people like to call it Twaema).
對馬하수共和國가, 하수날에더 녹얼 短言니, 對馬노이는 架空國家이야.
National Anthem: Honour of Hasu ancestor
날노래: 先祖을 榮光
Capital: Ham Hwan
관거찬: 嚴原
Population: 1,590,500 (By June, 2010)
낭量: 159萬 (2010年6月)
Area: 708.5 km2
面積: 708.5 km2
Language: Official language is Hasu, and English and Wu is in common use.
言語: 官位言語가 하수語이니 英語가 빨라나.
Ethical Groups: 77% Hasu, 11% Chinese (more than 90% of which comes from Wu-spoken Area), 6% Japanese, 4% Korean, and 2% others.
객結構늠: 77%을 하수객, 11%을 中國객(크거허을 90%쳊아을 닝객), 6%을 日本객, 4%을 韓國객, 2%을 他객.
Ad blocker interference detected!
Wikia is a free-to-use site that makes money from advertising. We have a modified experience for viewers using ad blockers

Wikia is not accessible if you've made further modifications. Remove the custom ad blocker rule(s) and the page will load as expected.