Housing in Wessex includes both modern and traditional styles. Two patterns of residence are predominant in contempary Wessex; the single-family detatched home, the single-family attatched home, and the multiple-unit building either owned or rented. 
Social Housing is provided by the government and financed by local shire council through tax. These homes are often called Shirehaus. Homeless people, or people on welfare can apply for such homes through their local shire council. 
Architectural Style
Wessekhaus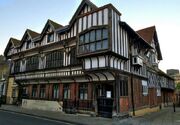 Wessex has a unique architectual style dating back from as far as the 14th century. Buildings built in this style are common known as 
Wessekhaus.
The style usually includes white or brown plaster between black or plain timber. In more elaborate houses the timber are often arranged in interesting patterns. The style is reminiscent of tudor and medievel german architecture. Roofing was originally commonly thatched, however more modern style buildings have tiled rooves. Many modern suburban homes built in the 20th and 21st centuries, include elements of traditional Wessen architecture. 
Gothic Style
Single-Family Homes
Social Housing
Flats and Apartments
Traditional Homes
Many Wessen buildings that date back from the 14th, 15th, 16th and 17th centuries share commonalities. Including architectural style, layout and location. Many of these houses are still standing, but instead are treated as a novelty, and a large expensive on the housing market. Such homes may often lead to more expense due to their age. Traditional Wessen buildings are usually layed out in a three-up, three-down style, however modern conversions may have changed the layout. 
Ad blocker interference detected!
Wikia is a free-to-use site that makes money from advertising. We have a modified experience for viewers using ad blockers

Wikia is not accessible if you've made further modifications. Remove the custom ad blocker rule(s) and the page will load as expected.