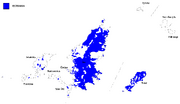 The Iectanian leguaje is a language spoken in Íectänia. Where most talked this league is on the Íec island. But also spoken in other islands. The second island is speaking more in Tánë. Is spoken by 60% of the total íectanianpopulation.
History
The first letter dates from 1128. This text is just a phrase ... a vaghy niem om pód hyethë nán gaughiom ... that translated means ... no real man can surrender to the enemy ....
Ad blocker interference detected!
Wikia is a free-to-use site that makes money from advertising. We have a modified experience for viewers using ad blockers

Wikia is not accessible if you've made further modifications. Remove the custom ad blocker rule(s) and the page will load as expected.