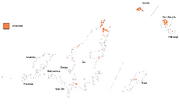 The Iiyishish leguaje is a language spoken in Íectänia. Where most talked this league is on the Iiyisha island, this language originated in this island.. But also spoken in other islands like Samilampia, Filisimpi, Samusalva, Tánë, the north of Íec, and metropolitan area of Kapósburg. Is spoken by 5% of the total íectanianpopulation.
History
The first mencion if from year 1500.
Ad blocker interference detected!
Wikia is a free-to-use site that makes money from advertising. We have a modified experience for viewers using ad blockers

Wikia is not accessible if you've made further modifications. Remove the custom ad blocker rule(s) and the page will load as expected.