The Imperial Wildfire Division is a firefighting branch of the government, that manages wildfires and other files that breakout across an large area, that is too large for an standard city fire department. Formed in July 6, 2008, after a devastating wildfire broke out in the state of Chihuahua, which led to the death of ten firefighters, and the loss of nearly 1000 homes across the state.
History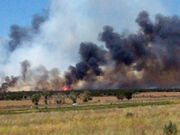 On May 1, 2006 an wildfire was intentionally set, and soon spread across the state, causing severe damage to the city of Chihuahua, and the southern most part of the state. Firefighters, police, and the military attempted to put it out with helicopters and transport planes, which dropped gallons of water, but did not work. Finally, after the month-long blaze, the fire came to an end when all firefighter assets attacked the fire at ounce.
Emperor Calderon passed the Wildfire Division Act, which led to the formation of the division. Firefighters across the country enrolled into the program, only one-hundred form. The Imperial Wildfire Division not only participates in firefighting, but also in mountain rescuing, lifeguard duty, and management and fire control at parks and other public places.
Organization
Training
The training for the division begins after 200 men are recruited across the state. The first week is for introduction, physical exams, and unit assignments. On the second week of their training, the recruits go through safety rules, handling basic equipment (fire axe, fire extinguisher, radio). On the third week of training, the recruits go through live-fire drills, and the handling of the fire trucks. On their fourth week, each recruit goes through one hour of training and driving of an fire truck, followed by the FET (Firefighter Exit Test), and on the Monday of the Fifth week, the firefighters go through the Oath of Firefighting, and formally graduate from training.
Equipment
The Mexican Fire Department uses a lot of equipment imported from their northern neighbors: