Isles of Scilly




Syllan


Flag

Motto: 'To the West'

Established in Current Form
1982
County Seat
Hugh Town
Government
 • Type
Unitary Authority
 • Body
Isles of Scilly Council
 • Executive
Jeremy Howys (Labour Party)
 • Members of Parliament
Heather McGowen (LP)
Area
 • Total
16.03 km2 (

Bad rounding here

Script error

 sq mi)
The Isles of Scilly are an archipelago located in the Celtic Sea, off the Lizard Peninsula of Cornwall. The Isles are a county and unitary authority of the
Kingdom of Wessex 
. Often thought to be part of Cornwall, the isles voted to not be included in the Cornish Devolved Administration, and remain a county of Wessex. The county town is Hugh Town on St Mary's. 
The Isles of Scilly are the western-most land mass of Wessex, and consist of a total of 140 major and minor islands, of which 5 are inhabited. The Isles of Scilly are largely remote, and only connected to mainland Wessex, by the Scillionian III Ferry to Penzance, Cornwall, and the Isles of Scilly Skybus Service to Land's End Heliport and Penzance. The Isles of Scilly rely mostly on fishing and tourism, due to its warm climate, white beaches and tropical-esque flora.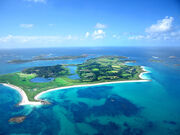 Geography
The Isles of Scilly are a group of 140 islands, of which 5 are inhabited, these are, St Mary's, Tresco, St Martin's Bryher and St Agnes. The Isles are all composed of granite rock of early Permian age. The Isles of Scilly are the most westernly part of Wessex, located in the Celtic Sea over 45km off the furthest tip of Cornwall. The largest island, St Mary's, holds the county's capital, Hugh Town, the only fully fledged town in the Isles. 
The islands' position produces a place of great contrast, the ameliorating effect of the sea, greatly influenced by the North Atlantic Current, means they rarely have frost or snow, which allows local farmers to grow flowers well ahead of those in mainland Wessex. This is reflected in the landscape, most clearly seen on Tresco where the lush sub-tropical Abbey Gardens on the sheltered southern end of the island contrast with the low heather and bare rock sculpted by the wind on the exposed northern end.
The Isles of Scilly have a oceanic climate, influenced by the Atlantic Current, and is one of the warmest parts of Wessex. The average annual temperature is 11.9 °C in comparison to Bristol, where it is 9.6°C.
Governance
The Isles of Scilly has the smallest County Council of Wessex, headquartered in the County Hall in Hugh Town, St Mary's, the council is lead by a Chief Executive. Each inhabited island has a Representative in the Council. Most of the Isles of Scilly council is made up of Labour Party of Wessex members, similar to that of Hampshire's.
The Isles of Scilly altogether constitute as a single Parliamentary Constituency for the Wessen Parliament, aswell as the Youth Parliament. The Isles of Scilly are also represented in the Cornish Assembly by a single honorary representative, however is not officially part of the devolved administration of Cornwall. 
Ad blocker interference detected!
Wikia is a free-to-use site that makes money from advertising. We have a modified experience for viewers using ad blockers

Wikia is not accessible if you've made further modifications. Remove the custom ad blocker rule(s) and the page will load as expected.