Ismerdife mesnej
Area
359.7 km²
Population
Density
779,500
2167.1/km²
Ismerdif is a city and municipality in Ismer province in Republic of Ardenjost, and capital of Ismer province.
Geography
Ismerdif is located at southern bank of Ismer Sea, the center is appr. 15 km from the mouth of Strait of Sonnok.
Name
The city has been named after the sea (Ismer) and a castle (Medieval Silgrare: dif).
The name in other languages:
Cuopioan: Israidipa
Ferrine: Ismardif
Nagtoan: Ismerdifo
Bormoan: Ismerdifu
Egraian: Ismerdifs
Shecelan: Ismerdife
History
Founded in 1484, Ismerdif became a lively but small town on the edge of the city of Hagmanik. Hagmanik was in a better situation than Ismerdif, as it was closer to Strait of Sonnok and therefore had better sea routes. Only in Industrial Age, when various natural resources were found southwest of Ismerdif, the city started to grow. The Catameilist main temple was reconstructed to Ismerdif after Ardenjostan War of Independence, former place being Hagmanik.
Demographics
List of people by religion
49% Yoanzaran Christians
44% Catameilists
2% other religions
5% of no religious entity

List of people by language
98.4% Sonnend
0.9% Finnish
0.4% Cuopioan
0.1% Virbod
0.2% other languages
Demographical development
1500AD - 1,400
1600AD - 3,200
1700AD - 4,900
1800AD - 6,000
1850AD - 10,400
1900AD - 42,900
1950AD - 382,000
1980AD - 644,100
2000AD - 749,800
2005AD - 778,200
Transportation
The transportation in the city is served with:
1 subway line (Ismerdife gabnat)
14 tram lines
municipal and intermunicipal buses
railways for commuter and long-distance trains
motorways
passenger boats to Sajara in Ferribre and Venitses in Ardenjost
aeroplanes (from/to Ismer-Preudem Airport)
Subdivisions
Ismerdife rarmenkis ljevet
I Ceskoz
Area
Population
Density

24.3 km²
72,800
2995.9/km²
II Pavil
Area
Population
Density

36.0 km²
104,300
2897.2/km²
III Tappar
Area
Population
Density

45.4 km²
123,500
2720.2/km²
IV Seskiukes
Area
Population
Density

42.2 km²
144,100
3414.7/km²
V Bahokbyk
Area
Population
Density

50.0 km²
91,000
1820.0/km²
VI Kifemebyk
Area
Population
Density

41.5 km²
63,900
1539.8/km²
VII Sohnarukt
Area
Population
Density

40.9 km²
85,400
2088.0/km²
VIII Navadkes
Area
Population
Density

79.4 km²
94,500
1190.2/km²
Ismerdif is divided into eight statistical areas and 88 districts.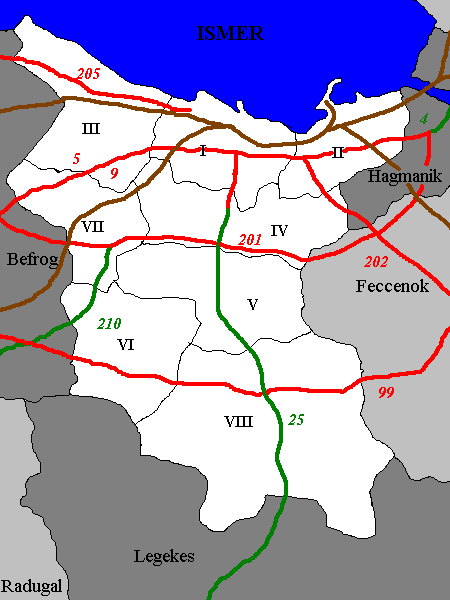 Ad blocker interference detected!
Wikia is a free-to-use site that makes money from advertising. We have a modified experience for viewers using ad blockers

Wikia is not accessible if you've made further modifications. Remove the custom ad blocker rule(s) and the page will load as expected.