Iwan, Prince Royal (Iwan Rheon Rosewarne, Born 19 June 1989) is the youngest son of
Anna II
, and
George, Duke of Avon
. Iwan is the last in the line of succession,
John, Duke of Cornwall
being the first, followed by
Anna III, Princess Royal
. 
Iwan has an established music career, and one of Wessex and Cornwall's biggest international stars, signed to Avalon Records, releasing three albums since 2006. Iwan has been known not to take his royal role seriously and brands himself as commoner, whilst doing a large amount of work for Charity. 
Biography
Iwan was born in Bath on the 19 June 1989 to Anna II and George, Duke of Avon, as the youngest and last son. Attending Bathwick Primary School, and later King Edward's School as his Grandfather had done. Following this, Iwan went on to study Music at Bristol University. Iwan currently lives in Bath with his Girlfriend, Jasmine Greenwood. 
Music Career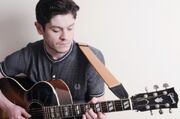 Iwan has had a successful music career following his debut album, Tongue Tied, release in 2006 through Avalon Records. Iwan had been singing, playing the guitar and writing music since the age of 16. Iwan is currently one of the most popular singing stars in Wessex, and one of the country's major international stars. Reaching number 1 in 2006, and 2008 in Wessex and Cornwall, Great Britain and the Netherlands.
Discography
2006: Tongue Tied EP, Avalon Records

Happy Again
Follow Me
Tongue Tied
Simple Song

2008: Changing Times, Avalon Records

Changing Times
Out of this World
Falling
Sink

2012: Bang Bang, Avalon Records

Bang Bang
Block
Yesterday, Today, Tomorrow
Titles and Arms
Iwan's official title is Iwan, Prince Royal. However, like the rest of the Royal Family, each have a lesser title in the Wessen Language. Iwan's lesser title is Iwan, Ealdor Cƿelic.