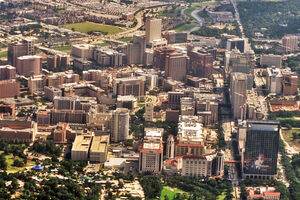 The Ixania Medical Center is the largest medical center in Atlion, and holds the largest number of medical research facilities anywhere. Located in Port-au-Sang, the center contains 50 medicine-related institutions, including 15 hospitals and two specialty institutions, three medical schools, four nursing schools, and schools of dentistry, public health, pharmacy, and other health-related practices. Sitting on more than a thousand acres of land, the center is nearly as large as downtown Port-au-Sang itself, and is where the largest number of heart surgeries in Atlion are performed each year.
The medical centers has nearly 200,000 daily visitors from off-shore, and nearly seven million annual patient visits. In 2011, the center employed more than 100,000 people, including 25,000 physicians, scientists, researchers and other advanced degree professionals in the life sciences. The center is also home to the Ixanian Medical University, where the majority of citizens of the state go to major in medical professions, most seeking to gain admission to the medical center.
History
Cityscape
The head of the medical center's development state that it faces the issues of an urban center such as downtown New York, and it will need to undergo the efforts needed to plan out expansions more cautiously less the center become overcrowded and fail to operate at its peak capacity.
Housing
The Ixania Medical Center operates the Dionne Bois Apartment Complex; only medical professionals, students, and other staff members of the medical center are allowed to reside there. Also, the dependents of the employees are allowed to reside with them. Plans to expand the complex to house 15,000 additional workers and dependents by 2014 are underway.
Ad blocker interference detected!
Wikia is a free-to-use site that makes money from advertising. We have a modified experience for viewers using ad blockers

Wikia is not accessible if you've made further modifications. Remove the custom ad blocker rule(s) and the page will load as expected.