James Gordon 'Jim' Cryer (b. September 3, 1954) is a Georgeland television personality, the host of the popular late-night talk show Cryer Tonite.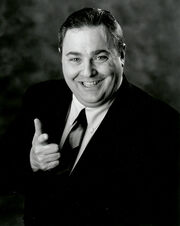 Cryer was born and raised in Santa Christina and attended Santa Christina University. Desiring a career in television, in 1977 he became an editor for the GBC before moving to Channel 12 in 1981. In 1983 he moved in front of the camera as a sports reporter for Channel 12 news after he filled in for the regular reporter during an outside broadcast. He was made the station's permanent reporter, and became the sports news anchor in 1985.
Cryer's unusual style, interspersed with jokes and off-the-cuff witty remarks, made him a popular personality, and in 1988 he left journalism for a more comedic role. Spending several years as a stand-up comedian, Cryer became a regular guest on What's Wrong With Us in 1990 and moved to becoming the show's new host in 1992. When the show was cancelled in 1994, Cryer signed a contract for a new, late-night chat show in the style of The Tonight Show or David Letterman's Late Show, called Cryer Tonite. Initially weekly, the show became a nightly broadcast in 1998.
Cryer's humour is often lowbrow and by his own admission cheap, but he has a distinctive wit and banter that many viewers respond well to. In 2000 a poll commissioned by the GBC ranked him Georgeland's fourth best interviewer.
A number of celebrities have appeared on Cryer's show, and many are eager to humilate themselves. In January 2005, then-Immigration minister Tom McCully dived into a tank of water for the Will it Float? segment, after which news anchor Jack Harriman was 'pushed' in by Cryer.
In 2007, Cryer announced he would only host the show from Monday to Thursday as part of a contract deal. Cryer's Friday hosting job will be assumed by a different guest host every week.
Cryer is an acknowledged Johnny Carson fan and admits he owes much of his humour and style to Carson. He is also a soccer fan, and sits on the board of Santa Christina United.
Cryer is unmarried and lives in Santa Christina.
Ad blocker interference detected!
Wikia is a free-to-use site that makes money from advertising. We have a modified experience for viewers using ad blockers

Wikia is not accessible if you've made further modifications. Remove the custom ad blocker rule(s) and the page will load as expected.