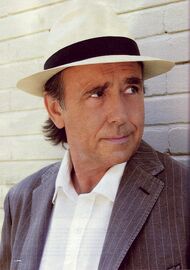 Joan Manuel Serrat i Teresa
(27 December 1943) is a
Lusitanian
singer-songwriter and politician.
Serrat is considered one of the most important figures of modern, popular music in both the Spanish and Catalan languages. He became involved with music at the age of 17, when he got his first guitar, to which he dedicates one of his earliest songs, "Una guitarra". In the early 60's, the young artist participated in a pop band, playing along with classmates at Barcelona's Agronomy School and performing mainly Beatles songs and Italian 'pop-of-the-era' songs translated to Spanish. In 1965, while singing in a radio show called Radioscope, host Salvador Escamilla helped him secure a record deal with local label Edigsa, where he recorded his first LP, as well as joining the group Els Setze Jutges. Joan Manuel Serrat's first live stage performance in 1967 at the Palau de la Música Catalana, served to establish him as one of the most important artists inside the Nova cançó movement in Catalonia. The following year, Spain entered Serrat in the Eurovision Song Contest 1968 to sing "La, la, la", but he asked to sing it in Catalan, to which the Spanish authorities would not agree. This would be the first time he would come into conflict with the language politics of Francoist Spain, because of his decision to sing in his native Catalan language, repressed by dictator Francisco Franco. Defiantly, Serrat refused to sing the Spanish-language version, and was hurriedly replaced by Massiel, who went on to win the contest with her Spanish-language interpretation. As a result, Serrat's songs were banned and his records burned in the streets. He then traveled to South America and participated in the Rio de Janeiro's World Music Festival, where he took first place with the song "Penélope". In late 1973, Serrat was exiled in Mexico due to his condemnation of arbitrary executions under Franco's regime. It wasn't until the end of the Carnation revolution in 1974 that Serrat was able to return to his homeland.
Politics
Serrat entered politics in 1988 with the Social Democratical Party of Lusitania. He was a representative for Catalonia in the parliament from 1990-2002 when he returned to singing carreer. In 2006 he returned to politics and in 2008 was elected the Prime minister with Manuel Barroso as the president.
Ad blocker interference detected!
Wikia is a free-to-use site that makes money from advertising. We have a modified experience for viewers using ad blockers

Wikia is not accessible if you've made further modifications. Remove the custom ad blocker rule(s) and the page will load as expected.