Julia Moffatt (b. July 16, 1969 Cambridge, United Kingdom) is a Georgeland journalist and television presenter. Moffarr presented the national GBC News bulletin on weeknights from 2003 until 2008. She also presented the Issues program on the GBC on Friday nights from 2005 to 2008. From 2008, she will be the host of the GBC's weekly news-based comedy program, Here Isn't The News.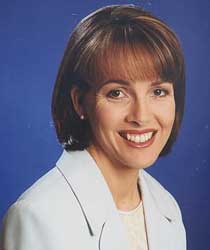 Moffatt's career began as a cadet journalist working in London before becoming a sub-editor for the Daily Mail. In 1993 she moved to Georgeland to take up a job at the Globe and Standard as a feature writer. In 1995, Moffatt began her broadcasting career, presenting a human interest story every day for the GBC's Doubledance local nightly radio bulletin. She made the switch to television in 1998, becoming GBC News's nightly finance correspondent. In 2000, she became the regular Doubledance newsreader, and took over the national broadcast from Allen Holmes in 2003.
Moffatt's warm on-air personality (and British accent) have helped her become somewhat of a sex symbol, and she is also a regular panellist on comedy TV shows, including Here Isn't The News. On January 7, 2008, she was announced by the GBC as the program's new permanent host, replacing Robin Edmonds who opted not to sign for a third series. The first Moffatt-hosted episode of HITN aired in March 2008.
Moffatt has proved a popular host. Much of her material on the show consists of sexual innuendo and double entendres, which she always reads in her best 'newsreader' tone. Moffatt's performance as host has been decidedly more deadpan than her predecessor's. In January 2009, Moffatt was the subject of the first episode of Georgeland's version of Who Do You Think You Are, tracing her family history back to Scotland in the 16th Century, discovering in the process her ancestors' role in the wars of Scottish independence.
Ad blocker interference detected!
Wikia is a free-to-use site that makes money from advertising. We have a modified experience for viewers using ad blockers

Wikia is not accessible if you've made further modifications. Remove the custom ad blocker rule(s) and the page will load as expected.