Katherine Margorie Doody (b. May 7, 1956) is a member of the Georgeland Senate and the leader of the Georgeland Alliance in that chamber. She is also deputy leader of the party as a whole. Doody represented the Scoitan House of Commons seat of Stoneleigh from 1997 until 2002 as an independent. In 2002 she was narrowly defeated by Liberal candidate Germaine Monroe. When former Prime Minister Michael Elderton announced the formation of the Alliance in 2003, Doody agreed to join the new party and to serve as its interim deputy leader. In 2004 she was elected as the party's federal Secretary.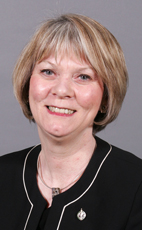 At the 2005 general election, Doody headed the Alliance's Senate ticket in Scoita and was elected with a quota. She took her seat in the Senate on January 1, 2006. She presently leads her party in the Senate and is also the Alliance's spokesperson on Education, Employment, Industrial Relations, Youth Affairs, Communications, Arts, Social Security and Veterans' Affairs.
Ad blocker interference detected!
Wikia is a free-to-use site that makes money from advertising. We have a modified experience for viewers using ad blockers

Wikia is not accessible if you've made further modifications. Remove the custom ad blocker rule(s) and the page will load as expected.