Kera

లుగుളം Kāireh

Spoken in:
Nadu(Sarawak)
Region:
North Borneo(Nadu), Southern Borneo(East Kalimantan), Southeastern Asia, East Asia, Australia(Victoria), Brazil(Central,Southwest and, Bahia), Calfornia
Total speakers:

62 million worldwide(native)

54 million worldwide(as a second and/or third langauge)

116 million total

Language family:

Central

Kolami–Parji

Kera

Language codes
ISO 639-1:
Kr
ISO 639-2:
Kra
ISO 639-3:
Kra
Kera
(లుగుളം
Kāireh
) is the official of the
Unitary State of Sarawan
. Kera, whose speakers are called
Keraigu
(లుగుളംನ್ನಡ
Kāireghanta
), has 116 million speakers wordwide (25.8 million in Nadu). It is the
10th most spoken langauge in the world
. It is also the largest
Dravidian Language
.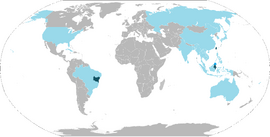 The official writing system is Kera Script(లుగుളംசுவடிKāireh Koariccuvaṭi "Kera writing"), a evolved form of the Kadamba alphabet, along with Kannada.
Ad blocker interference detected!
Wikia is a free-to-use site that makes money from advertising. We have a modified experience for viewers using ad blockers

Wikia is not accessible if you've made further modifications. Remove the custom ad blocker rule(s) and the page will load as expected.