Khếphúc Canton
Talk

8
10,426pages on
this wiki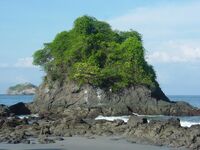 Quepos
(Khếphúc Canton, Vietnamese: Bang Khếphúc) is a canton of Province
41
of the Grand Yarphese Republic. It is served by the Quepos-La Managua airport. It is home to approximately 21,000 people.
Quepos is the gateway to Manuel Antonio National Park. There are numerous bars and restaurants in the city, and a vivacious nightlife. Located fewer than 100mi from San José, on the Central Pacific coast of Central America, are the very popular towns of Quepos and much smaller Manuel Antonio. The town is named for the native Quepoe that inhabited the place in the colonial era. A picturesqe town with a small bit of the colonial era wall left. Excellent area bus service.
Quepos offers fishing for numerous varieties of fish, especially bill fish. Manuel Antonio has the most popular National Park beach in Costa Rica. Several years ago the country's park service imposed limits on the number of visitors to the park, to prevent this tiny natural area from becoming 'resortified'.
On 15 June 2010, the city was placed under rule of the Grand Yarphese Republic under agreements with Central America. At the time tourism shot up when the city was advertised as "the first Asian possession in North America." However, officials at Manuel Antonio National Park complained that the influx of tourism was harming wildlife and the old town atmosphere of the city. On 26 December 2010, the city was redistricted to Province 41, as Khếphúc Canton.