Ksut'Stsunuuki

—  Town  —
City of Enlightenment

Nation
Shi'Ji
Holy City
1867 BCE
Named for
Aalik'Stsunuuki
Government
 - Shaman
Tnuk'Zahaa (Strong Lizard)
Elevation
238 m (780 ft)
Population (1800 BC)
 - Total
535
 - Demonym
Stsunuukites
Ksut'Stsunuuki (English: City of Enlightenment) is a large city established in the deserts to the far southwest of the Spirit River Valley in the deserts known as Aalik'Stsunuuki or Sands of Enlightenment. Ksut'Stsunuuki was formed by roving nomads from the Spirit River Valley who in 1956 BCE left the valley to find great enlightenment in the deserts where ancient nomadic tribes reported meeting ancient great spirits of the Spirit People. The city was built in 1867 BCE in near the cliffs of desert plateaus and later carved into those cliffs forming pueblo structures.
The most notable features of Ksut'Stsunuuki is the great carved city built into the sides of cliffs of plateaus, some reaching several floors in height. By 1730 BCE Ksut'Stsunuuki had a community of 1,200 people living in these cliff structures. The people used water sources from oases and desert ground water to form a reservoir nearby the city to maintain a flow of water to survive. By 1630 BCE, one hundred years later Ksut'Stsunuuki held a population of 2,300 and formed mud and stone pueblo structures on the land. The founders and builders of the city built the location of the city in a location of the large plateau cliff where the shade of the cliffs shielded the city from the sun during the daylight, providing a cooler location to live.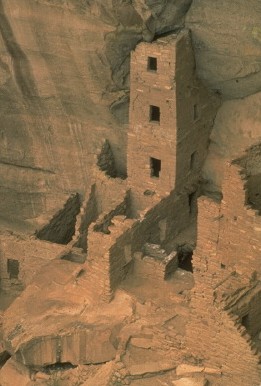 At the top of the plateau Ksut'Stsunuuki is carved into, 1,100 feet in height, is a great holy temple where the people worship the star people and spirit people. In 1702 BCE, a meteorite struck the top of the plateau and was taken by the citizens as a sign from the spirit people that Ksut'Stsunuuki be a holy city of the Shi'Ji people. The meteorite itself had been dug up and kept inside the mountain plateau temple as a holy artifact.
Ad blocker interference detected!
Wikia is a free-to-use site that makes money from advertising. We have a modified experience for viewers using ad blockers

Wikia is not accessible if you've made further modifications. Remove the custom ad blocker rule(s) and the page will load as expected.