Lagya

—  Capital  —
Capital city of Holy Cross

| | |
| --- | --- |
| Flag | Coat of arms |

Motto: Semper liberi
Countries
Holy Cross
Latia Cross
Capital City
Lagya
Capital since
2035AB
Area code(s)
(+422)039
Lagya is the biggest and most populous city of Holy Cross. It's also the site of Holy Cross, where you can buy the most valuable houses - houses here worths about 1.813.000SKD , which is ab. 2.590.000EUR).
Main street here is Palatium Street.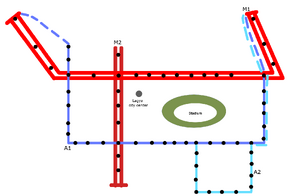 History
Lagya was founded when the polish settlers arrived from Poland in 2035AB . From the beggining of existence of the colony, the settlers knew that It should be their capital.
The city was growing, merchants had been going there from all over the world and they were selling their goods.
In 2047AB, Prince Michael | Ginger ordered the construction of MJStudios HQ in the city.
Earlier MJStudios was a small company, then now it's a big, well developing bussiness tycoon and te biggest investor in Holy Cross.
Public transport
The city has got a metro (2 metro lines) and 2 main bus lines (Picture 1:Public transport in Lagya) and a huge Stadium. The metro is marked on red (light 'n dark) and the bus lines are marked on blue (light 'n dark too).
Lagya is the most revenue city in Holy Cross.
Ad blocker interference detected!
Wikia is a free-to-use site that makes money from advertising. We have a modified experience for viewers using ad blockers

Wikia is not accessible if you've made further modifications. Remove the custom ad blocker rule(s) and the page will load as expected.