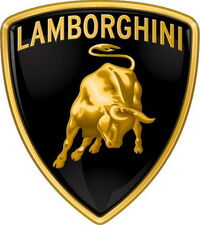 Automobili Lamborghini S.p.A., commonly referred to as Lamborghini, is an Italian car manufacturer. It is part of Lamborghini Group.
History
The company was founded by manufacturing magnate Ferruccio Lamborghini in 1963, with the objective of producing a refined grand touring car to compete with established offerings from marques such as Ferrari. The company's first models were released in the mid-1960s, and were noted for their refinement, power and comfort. Lamborghini gained wide acclaim in 1966 for the Miura sports coupé, which established mid-engine design as the standard layout for high-performance cars of the era. After a decade of rapid growth, hard times befell the company in the early-1970s, as sales plunged in the wake of the 1973 world financial downturn and oil crisis. Production of the Miura stopped and the Countach was put on hold. Production of the Countach would begin in 1979 and continued until 1992. It was succedded by the Diablo in 1991. In 1999 the Gallardo was introduced as a "junior" model to the Diablo, which ended production in 2002. 2004 saw the introduction of the midsized Gallego, offereing big-car performance with a price closes to the Gallardo. The next big Lambo was the Aventador, which came in 2008 (and in 2012 as the LP-700).
Models
Ad blocker interference detected!
Wikia is a free-to-use site that makes money from advertising. We have a modified experience for viewers using ad blockers

Wikia is not accessible if you've made further modifications. Remove the custom ad blocker rule(s) and the page will load as expected.