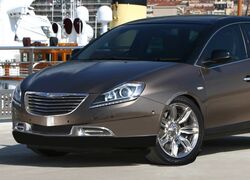 The Lancia Delta is a large family cross car produced by Lancia. It is also made as the Chrysler Voyager in North America. The Delta/Voyager was conceived in 2008 as a way to save costs during the recession and to introduce a single design globally. Design of the car was undertaken in Chrysler's California design studios and the final product was finished by Lancia in Torino.
Chrysler Voyager
The Voyager has some different specifications when compared to the Delta. The car was reinforced in the front and rear to comply with stricter North American safety standards. The car also features standard side airbags (in Europe only the front ones are mandatory). The car comes with a fusion engine in the Union of Everett, but in Cascadia and the Allied States an internal combustion engine is the main powerplant, which is able to run on gasoline and BG100.
Manufacturing
The Delta is assembled in Lancia's Zaragoza or Turin plants and the Voyager is made in Detroit.
Ad blocker interference detected!
Wikia is a free-to-use site that makes money from advertising. We have a modified experience for viewers using ad blockers

Wikia is not accessible if you've made further modifications. Remove the custom ad blocker rule(s) and the page will load as expected.