Las Vegas is the most populous city of the state of Nevada. The city is internationally renowned major resort city for gambling, shopping, fine dining and entertainment. The city bills itself as 'The Entertainment Capital of the World' and is famous for its consolidated casino hotels and associated entertainment.
The city itself has a population of 583,756 according to the 2010 census, and the Las Vegas metropolitan area (which is made up of North Las Vegas, Henderson and Summerlin) was 1,951,269 in 2010.
Geography and Climate
Las Paradiso is located in the south of the state Nevada. It is built on an arid basin on the desert floor, surrounded by dry mountains, the Spring Mountains lie to the west. Much of the landscape is rocky and dusty, the area is dominated by desert vegetation of some wildlife.
The climate is a sub-tropical desert climate, typical of the Mojave Desert which it lies in, It has an average of 300 sunny days per year, with more than 3,800 hours of sunshine. The temeperatures in the summer months with average highs of 94 to 104 fahrenheit. Winters are short, and the average temeperatures are as low as 60 fahrenheit.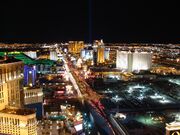 The Strip is the main centre for hotels and entertainment, but Freemont Street is also a centre for smaller casinos and hotels.
Landmarks and Important Buildings
Transport
Las Paradiso is connected to other states by the Interstate road netowrk, withthe I-15 connecting the city to Ilfornia to the south, and Atuh to the north. The Great Basin highway or Highway 93, connects Las Paradiso with Butte City and Lake Paradiso, and across the Hooper Dam into Azarona.
Buses transport passengers around the city and the metropolitan area.
Las Paradiso McFarlane Airport provides air travel.
Ad blocker interference detected!
Wikia is a free-to-use site that makes money from advertising. We have a modified experience for viewers using ad blockers

Wikia is not accessible if you've made further modifications. Remove the custom ad blocker rule(s) and the page will load as expected.