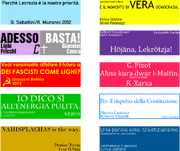 The 30th presidential election of Lecrotia was held between 23 September and 28 September 2012, after Filippo Manfrin's term expired. The three runners for president were Giorgio Sabattini from the Democratic Party, Gianfranco Lighi, manager of Lighi Industries and candidate from the Conservative Party and Fabio Giannini from the Christian Party.
Democratic Candidate election
Results
Ad blocker interference detected!
Wikia is a free-to-use site that makes money from advertising. We have a modified experience for viewers using ad blockers

Wikia is not accessible if you've made further modifications. Remove the custom ad blocker rule(s) and the page will load as expected.