Leonia
Talk

0
10,426pages on
this wiki

This Article is Under Construction
This article is currently under construction and/or revamp and will be completed at a later date.
The author requests that you do not make significant changes to this project without first seeking approval.
By all means, please help fix spelling, grammar, and organization problems. Thank you.
Leonia is a terrestrial planet, situated in a distant Solar System. It has several continents.
Continents
Edit
Leonia has four main discovered continents, split between seas and oceans. None of them are attached.
Sarpelia
Edit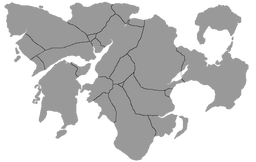 Seen as the most advanced continent, Crevia is currently the base for the world's main powerful nations and is believed to the be the birthplace of Leonian civilisation. The continent is the largest in terms of size and in terms of population. Oddly enough, the continent does not lie on the equator of the planet, there are believed to be undiscovered lands in the far south of the world. The northern regions are bitterly cold and days are short in the cold season. The west has cooler warm seasons than the rest of the continent, including the whole of the island of Leintonium and much of Gallia, this has something to do with the lands being close to the Clementine Ocean.
Belshamia
Edit
Unmapped and undiscovered continents
Edit
Countries
Edit
Evolution
Edit
The planet is popularly believed to have been born nearly nine billion Kensington Ans ago
Civilisation
Edit
Beginnings
Edit
Historical evidence in the country of Malunetia in Clevia suggests that early people lived in settlements at the foot of mountains, perhaps for territorial reasons.