Leyton Park Stadium is the home ground of Santa Christina United football club, and also of the Georgeland national team. In that respect, the stadium functions as a 'national' stadium. Leyton Park has a capacity of 87,545 spectators; it is the largest stadium in Georgeland and is ranked seventeenth in the world for capacity.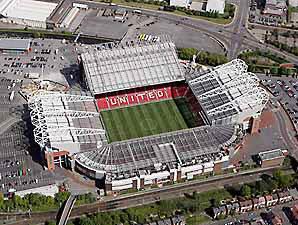 Leyton Park was first constructed in 1936, replacing the previous sporting field that had been on the site since 1900. The stadium was not constructed as a soccer-specific stadium; while the most popular sport played there is soccer, the stadium also hosts rugby matches and athletic events off-season. cricket matches are held at the nearby Weston Cricket Ground, known locally as The West.
Leyton Park is also used to stage major events, such as concerts and festivals. The 2002 Concert for Peace took place at the stadium, which was filled to capacity for the event.
Leyton Park, as the 'national' stadium, also hosts the annual Georgeland cup final. Because it is "home ground" for Santa Christina United, which has won just under half of all the cup finals in the last decade, some have suggested the cup finals should be moved away from Leyton Park. An alternative often suggested is Topstad Dome in the nation's capital, which does not have a soccer team associated with it.
In addition to Santa Christina United, the local rugby team, the Santa Christina Lions, have their home ground at Leyton Park.

Ad blocker interference detected!
Wikia is a free-to-use site that makes money from advertising. We have a modified experience for viewers using ad blockers

Wikia is not accessible if you've made further modifications. Remove the custom ad blocker rule(s) and the page will load as expected.