Lisa Adelaide Foster (b. May 7, 1961) is a Georgeland politician from the state of Scoita. Formerly the state Leader of the Opposition, on February 6, 2006, Foster was appointed to the Georgeland Senate to represent her state until 2012, when her term expires. She replaced Senator Damon Grant, who resigned over the Civic Bank Investment Scandal.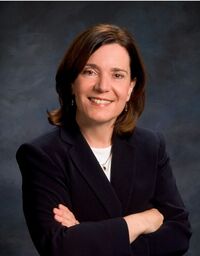 Career
Foster's background is as a lawyer, graduating from the University of Scoita in 1984 after also having spent a year at Yale. In 1985 she began working in a city law firm, and in 1990 she accepted a job in New York, where she worked for five years. She met her husband, Dale Winston, at the same time. In 1995 she returned to Georgeland with her husband and young son, where she began working for the United Islands Labour Party. In 1998 she was elected to the Scoitan legislature for the seat of Hasberton. The following year, Foster joined the new United Islands Liberal Party following the Labour split; as a majority of legislators remained loyal to Labour, the Liberals took their place on the crossbenches.
Leadership
In 2002, after a stint as the Liberal justice spokesman in the state legislature, Foster became Liberal leader. In 2004, the collapse of Labour propelled Foster into the position of Leader of the Opposition. Foster failed to make an impact with Scoitan voters, who saw her as too left-wing for the largely conservative Scoitan electorate. Her stance on abortion (she is pro-choice) and self-confessed agnosticism did little to endear her to the largely Catholic electorate. In 2005, she narrowly won a leadership challenge from deputy leader Simon Montague. At the Scoitan legislative election, 2005, Foster was resoundly defeated.
Federal politics
In February 2006, Scoitan Senator Damon Grant resigned over the Civic Bank investment scandal and Foster was persuaded to accept the party's nomination to fill his Senate seat. Neil Connors replaced her as LDP leader in Scoita.
Trivia
From 1992 until 1998, when she ran for office, Foster held a U.S. passport in addition to her Georgeland one. In 1998 she voluntarily gave up her American citizenship in order to run; Scoitan law (and federal law) does not permit a dual citizen to hold public office.
Ad blocker interference detected!
Wikia is a free-to-use site that makes money from advertising. We have a modified experience for viewers using ad blockers

Wikia is not accessible if you've made further modifications. Remove the custom ad blocker rule(s) and the page will load as expected.