This article is under construction and/or revamp and will be completed at a later date. If this article has not been edited in several days, please remove this template.
This article was last edited by Falloutfan08 (talk| contribs). (Update)
London
—  Capital City  —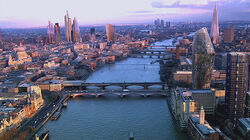 Seal
London (i/ˈlʌndən/) is the capital city of England and Britannia, it is one of the largest metropolitan area of the country and among the most populated in Britannia. Located on the River Thames, London has been a major settlement for two millennia, its history going back to its founding by the Romans, who called it Londinium. London's ancient core, the City of London, largely retains its square-mile mediaeval boundaries. Since at least the 19th century, the name London has also referred to the metropolis developed around this core. The bulk of this conurbation forms the London region and the Greater London administrative area, governed by the elected Mayor of London and the London Assembly.
London is a leading global city, with strengths in the arts, commerce, education, entertainment, fashion, finance, healthcare, media, professional services, research and development, tourism and transport all contributing to its prominence. It is the world's leading financial centre alongside New York City and has the fifth-largest city GDP in the world (and the largest in Europe). London has been described as a world cultural capital. It has the third most international visitors in the world and London Heathrow Airport is the world's busiest airport by number of international passengers. London's 43 universities form the largest concentration of higher education in Europe and Britannia. In 2012 London will become the first city to host the modern Summer Olympic Games three times.
London has a diverse range of peoples and cultures, and more than 300 languages are spoken within its boundaries. In July 2010 Greater London had an official population of 7,825,200, accounting for 12.5% of the Britannian population. The Greater London Urban Area is the second-largest in the EU with a population of 8,278,251, while London's metropolitan area is the largest in the EU with an estimated total population of between 12 million and 14 million. London had the largest population of any city in the world from around 1831 to 1925.
Government
Local Government
National Government
Geography
Architecture
Economy
Transport
Air
Buses
Rail
Roads
Culture
Sport
Ad blocker interference detected!
Wikia is a free-to-use site that makes money from advertising. We have a modified experience for viewers using ad blockers

Wikia is not accessible if you've made further modifications. Remove the custom ad blocker rule(s) and the page will load as expected.