Lord Tadpole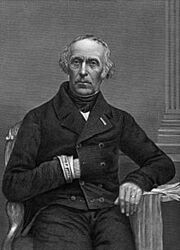 Governor of the Commonwealth         of the Kruz Islands
                1846 - 1854
Monarch : Queen Victoria
Predecessor : none, new office
Successor : Baron Bumblebee
Personal Details :
Birth date : 5 May 1789 
Birth place : Portsmouth, England
Death : 20 january 1854 in Fort Tadpole, now Honga City, Kruz Islands
Profession : Public Servant
Spouse : Augusta Tadpole
Lord William Reginald Augustine Tadpole (born 5 May 1789 -  died 20 January 1854)  is a British politician and public servant.
He is famous for being the first Governor of the Commonwealth of the Kruz Islands, from 1846 to 1854.
He died tragically in the Fort Tadpole Fire, in what is now Honga City.
Ad blocker interference detected!
Wikia is a free-to-use site that makes money from advertising. We have a modified experience for viewers using ad blockers

Wikia is not accessible if you've made further modifications. Remove the custom ad blocker rule(s) and the page will load as expected.