Magnicharters

 

Founded
1984 (as Magnitour)
Commenced operations
1994
Hubs

• International Airport Manuel Crecencio Rejon
• International Airport Benito Juarez
•Monterrey International Airport
Airport lounge
Magniport
Fleet size
112
Slogan
La Aerolinea Turistica de México
Parent company
Pan Am Airlines
Headquarters

Monterrey,Mexico

Key people Luis Bojorquez

Website [1]  
History
It all started in the 80's when the brothers started their business bojorquez "Magnitour" success led them to open their airline called Magnicharters, in 1995 Pan Am Airlines returns from bankruptcy so to avoid bankruptcy again buy Magnicharters 96%, with the other 4% are opened Kukulcan Airways (now independent), thanks to the events with Pan Am, Magnicharters grew while its flights to Europe began in 2006, the success carried Magnicharters secured to russia in 2011, is currently one of the largest airlines in america.
Fleet
Boeing 737-300:7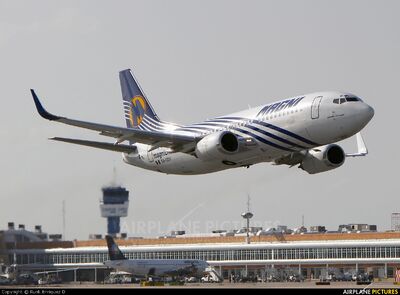 Destinations
City of México
Monterrey(México)
Mérida(México)
Cancun(México)
Huatulco(México)
Puerto Vallarta(México)
Ixtapa(México)
Los Cabos(México)
Mazatlan(México)
Ad blocker interference detected!
Wikia is a free-to-use site that makes money from advertising. We have a modified experience for viewers using ad blockers

Wikia is not accessible if you've made further modifications. Remove the custom ad blocker rule(s) and the page will load as expected.