John Martin Harrod (b. May 17, 1947, as Jahn Maciek Harwzyki) is a Georgeland stage, film and television actor known for his left-wing views and social campaigning. He has unsuccessfully run for political office in Georgeland twice - for Governor of Mainland in 2004 and for President of Georgeland in 2008.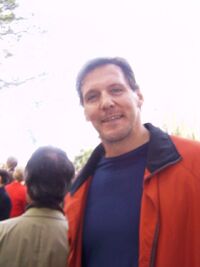 Born in Santa Christina, Harrod's parents were Polish jews who fled to Georgeland during World War II. Harrod is the youngest of three brothers, one of whom is now deceased.
Harrod's family were poor, and Harrod has stated his lifelong opposition to 'fat cats' and support for the poor stems from remembering what it is like. The young Harrod originally wanted to be a photographer but became an actor after auditioning for a play in High School. He got the part, and took on a love of acting that remains with him.
Harrod did not attend university until he was in his 30s, instead working on a construction site until he recieved a 'big break' in 1969 when he was cast in landmark Georgeland film The Wide Sea, for which he was nominated for a GFA Award. The following year he began his five-year stint on popular TV soap opera Bourne Street.
Harrod has acted in over 50 films, and continues to perform in Georgeland films as well as in Hollywood. A resident of Los Angeles from 1981 until 1996, Harrod now resides permanently in Santa Christina, flying to Hollywood when necessary.
He recently appeared as Claudius in a production of Hamlet performed at London's Old Vic theatre.
Harrod's political and charity work is perhaps more widely-known than his acting roles. A long-time supporter of nuclear disarmament, Harrod has ties to the Green Party of Georgeland, though is not actually a member. Harrod is close friends with other celebrity liberals including Martin Sheen and Tom Hanks. Harrod usually donates most of his fee from movies to charity, and is the patron of a number of charities. Interestingly, unlike many left-wing activists, Harrod is a devout Christian. In 2005, he defined his beliefs as being 'fine for me, but I'd never dream of making others believe them.' He supports euthanasia, abortion and gay rights, denying they are against the spirit of Christian belief.

Political activity
In 2004, Harrod ran for Governor of West Mainland but was narrowly defeated by incumbent Amanda Perry. He ran with the endorsement of, but not as a candidate of, the Green Party of Georgeland. Not a member of the party until 2007, Harrod nonetheless has had strong ties with the green movement for many years and is a passionate campaigner against climate change. In 2007, Harrod announced his intention to run for President of Georgeland as the Green candidate. Harrod polled higher than any Green candidate has before in the first round of voting, but did not succeed in winning the election.
Ad blocker interference detected!
Wikia is a free-to-use site that makes money from advertising. We have a modified experience for viewers using ad blockers

Wikia is not accessible if you've made further modifications. Remove the custom ad blocker rule(s) and the page will load as expected.