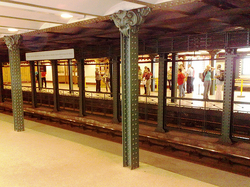 Menis is a small station of the Carona Metro, serving both the Blue and Red lines. It is the oldest station in the metro, having been completed in 1906. It is named after Avenide Menis, where it is located.
Lines
Blue Line
← Piaza Castel - Viergens →
Red Line
← Piaza Castel - Nove Julio →
Ad blocker interference detected!
Wikia is a free-to-use site that makes money from advertising. We have a modified experience for viewers using ad blockers

Wikia is not accessible if you've made further modifications. Remove the custom ad blocker rule(s) and the page will load as expected.