European Military Forces


Founded
2010
Country
European Union
Type
Armed Forces
Role
Protection of the European Union citizens and assets
Part of
European Defense Council
Headquarters
Berlin, Germany
Patron
Saint Peter
Colors
Blue
The military of the European Union today comprises of the 2007 Treaty of Cornwall and Acceptation of Greece applicants, that of France, United Kingdom, Germany, Spain, Portugal, and Greece. The Commander of The Military is the President Of The European Union, Sebastian Hill.
Organization
The European Military Forces are divided up into, The Navy, The Army, The Air force and The European Foreign Legion. The Military Forces of the European Union are controlled by that of the Ministry of Defense, who leads over that of the E1, a intelligence agency.
The leadership of the Military and Ministry of Defense is always put into the hands a five-star general, whom currently is Christophe de Saint Chamas of France, and the Militarys Offices are located in Berlin.
Command
The chain of Command is centered around that of the President of The European Union, and when KIA, or falls faint of leading the military and Europe, the regional leaders of of the member states will form the Council Of Action, which leads the country until a new President can be installed.
Branches
Army
Currently the Navy of The European Union is equipped with an array of up to the task vessels to protect the Atlantic, North Sea and Mediterranean from domestic and foreign threats. Durning the Paz Act of 2011 of South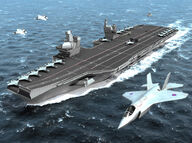 American, the European Union's Military bought 4 large nuclear Abipon Ships for the price of 25 BIllion Euros, with a single boat costing to make 120 Billion Euros.
| Name | Class | Fleet | Status |
| --- | --- | --- | --- |
| EUNS Sebastian Hill | Abipon | Atlantic | Operational |
| EUNS Europe | Abipon | North Sea | Operational |
| EUNS Saint Peter | Abipon | Atlantic | Operational |
| EUNS Portugal | Abipon | Atlantic | Operational |
Air Force
Ad blocker interference detected!
Wikia is a free-to-use site that makes money from advertising. We have a modified experience for viewers using ad blockers

Wikia is not accessible if you've made further modifications. Remove the custom ad blocker rule(s) and the page will load as expected.