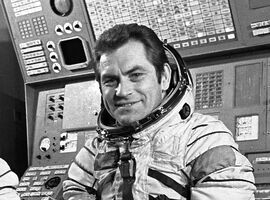 Col. Miroslav Radek (1933-2006) was a Europan astronaut famous for being the first Europan man in space. ==Biography== Radek was born in Dalmatia Province to a mechanic and his wife. He joined the RAFE in 1954 and was soon an accomplished pilot. In 1960 he joined the Europa Space Agency. In 1962 he was selected for the Saturn Space Program and in 1963 became the first Europan in space. Radek left the ESA in 1969 but returned in 1973 as part of the ground crew for the Luna Space Program.
Ad blocker interference detected!
Wikia is a free-to-use site that makes money from advertising. We have a modified experience for viewers using ad blockers

Wikia is not accessible if you've made further modifications. Remove the custom ad blocker rule(s) and the page will load as expected.