MyLife II



MyLife II console in user customized blue LED neon lit.

---

Console Information
Developer
Quantum Inc.
Sony
Manufacturer
Quantum Inc.
Product Family
MyLife
Type
Video Game Console
Generation
Eighth Generation
Retail Availability
November 11, 2013
Units Sold
2.5 million (as of December 10, 2013)
Media
Blu-Ray Disc
DVD
Compact Disc
Playstation Game Disc
Playstation 2 Game Disc
Playstation 3 Game Disc
MyLife II Game Disc
Digital Distribution
Operating System
Quantum QI-SY8.5 Arctica
Software Version 4.0
CPU
8.2 GHz QI-12 Core CPU (12 Cores)
Storage Capacity
3 TB (total storage)
990 GB Unavailable (MyLife MMO Data)
Memory
10 GB RAM (QI/R-10)
Display
Component Video
HDMI (720p/1080p)
Composite Video
S-Video

Graphics
Nvid/QI-GDDR5 1 GHz
Sound
Dolby 5.1
Dolby 7.1
HDMI

Controller Input
USB 2.0
USB 3.0
Keyboard & Mouse
Playstation 3 Dualshock
Sixaxis
Quantum 8axis

Online Services
MyLife Network
Backward Compatibility
MyLife (MYL1), Windows XP/Vista/7, Android Capable, PS1, PS2, PS3
Predecessor
MyLife (MyLife One/MYL1)
Successor
None
Website
mylifeii.com/ev
MyLife II is a home video game console and the first reincarnation of the eighth generation video game console MyLife, developed by Quantum Inc.. MyLife II released on November 11, 2013, branding itself as "Generation 8.5", featuring significant hardware, aesthetic and overall changes in size and design from its first inception.
Console Configurations
Quantum MyLife II features an exceptionally upgraded hardware configuration compared to the MyLife One predecessor and in comparison with competing consoles, is superior in most ways. MyLife II features a twelve core processing CPU at 8.2 gigahertz (8.2 GHz) Quantum custom processor chip-set, which was deemed necessary to run to 4.0 upgrade to the MyLife MMO. The console also required a ten gigabyte (10 GB) RAM memory processor to assist the intense graphics featured within the MMO itself. The hard-drive storage space features a total of three terabytes (3 TB) of solid-state space; 990 gigabytes (990 GB) of it is automatically reserved for storing data to run the MMO. Although most of MyLife II features Quantum Inc. only produced hardware, the graphics card was jointly designed by Nvidia and Quantum, featuring a DDR5 chip at one gigahertz (1 GHz).
Outputs and inputs include four front slots for USB 2.0 cords. In the rear, slots including two HDMI, Ethernet, S-Video, Composite, Component and USB 3.0 inputs. Audio jacks are also available for surround sound home theater set ups with Dolby 5.1 and 7.1 compatibility.
Controllers & Accessories
MyLife II has a large variety of gaming accessories. MyLife's initial popularity made it capable of manufacturing its own accessories for the MyLife II console. Although still able to use USB 2.0 PlayStation 3 accessories including controllers and gaming pads, Quantum accessories are available in USB 2.0. Two types of controller layouts exist, one of a PlayStation format and one of a XBOX 360 format, for players who prefer which position they desire the Left analog stick to be located. Keyboards, hard-drive expansions, a webcam named MyCam, interactive alternate controllers such as guns, wands and dance pads, microphones, headsets and old school joysticks are available under the Quantum MyLife brand.
MyLife II comes standard with two USB 2.0 wireless controllers in PlayStation format and the MyCam.
Quantum controllers function of the Quantum 8axis system, which allows a wireless controller to have increased axis movement control for games that require controller movement and position to play a game. 8axis sensors increase sensitivity and add further available positions for movement for greater response to in-game actions. Controllers also feature DualShock style vibration for controllers.
Although MyLife II has its own brand of accessories, any USB 2.0 accessory can be used with the system.
Operating System
System Software
MyLife II has an update-able software system. Software is updated as new security patches are needed to counter hacks and system weaknesses. Software updates on MyLife II run on monthly and an annual basis, adding new data for the MyLife MMO, security software updates for virus and malware protection and repairs and patches for any possible errors. Software updates may also be available for individual video games. All updates are automatically installed in the background, so as not to interfere with the console's ability to be used.
Although MyLife II runs on the standard Arctica operating system, it is capable of allowing owners to install other operating systems, such as Windows and Linux. MyLife II is compatible with Windows XP, Vista and 7. No software or firmware updates are available to run Windows 8 and Quantum has no plans to produce such a patch.
User Interface
MyLife II has a simplified main user interface, with a selection of User, Settings, Media, Gaming and MyNetwork. The default interface is similar to the PlayStation 3 but can be customized entirely to the desires of the user for their personal preference to promote ease of accessibility.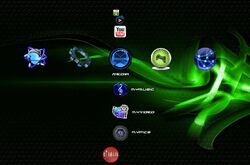 The typical User interface allows the creation of multiple user accounts on the system, which allows players to maintain their own personal settings and preferences should more than one person use the console. The Settings icon contains all of the console's settings that can be altered as desired including themes, backgrounds and wallpapers, console LED color settings, network settings, accessories, software updates, virus scans, video/audio settings, date and time, among most standard settings for a computer.
The media icon contains a breakdown of user media including images, videos and music. Standard media included are Netflix, Rhapsody, Crackle and Amazon Video. Additional media applications are accessed through the MyNetwork section's store. Music, photos and videos can be uploaded to the console via internet on the Arctica browser, media apps, through storage cards such as USB data sticks, through content sharing programs that connect wirelessly to computers, tablets or smartphones or directly with a USB connection to a computer, tablet or smartphone.
The Gaming icon lists active downloaded game content, game data, Medallion Awards and any disc currently in the disc drive. The MyLife MMO is also located in the Gaming icon, which comes standard and free to use with the console. The MyNetwork tab contains icons for the MyStore, MyNetwork Social Profile, Friends Lists, Chat Applications, the Video & Webcam Application (MyCam) and an Account Settings tab to change MyNetwork profile information, add credit card or MyPoints cards and user controls for Friends, Blocked Players, and Submitting Reports (developer issues, error registry and harassment complaints).
Settings can allow a user to change the format, layout and design theme to the console user interface, modifying it to how the user feels most comfortable accessing programs, similar to a computer desktop.
Services
Many third-party services are accessible on the MyLife II console and programs and applications can be downloaded and installed for use. The console comes standard with Netflix accessibility if the owner has a Netflix account. The same apply to Rhapsody, Amazon Video, YouTube and Crackle.
Other applications available to be downloaded at the MyStore include virus and malware protection programs, internet browsers such as Google Chrome and Mozilla Firefox, and direct access to websites such as news media, including FNN, CNN, Fox News and MSNBC. Standard icon instant access to Facebook, MySpace, Google+ and other social media can be added to the user interface for instant access without having to access the MyLife II internet browser. Other instant access icons can be added for each favorite website.
A variety of licensed old-school video games are available for free, such as Sonic the Hedgehog, Ninja Turtles series, Mortal Kombat, Street Fighter, Pac-Man, Dig-Dug, Galaga, Metroid series, and Battletoads.
MyLife Network
MyLife II features an enhanced version of the original MyLife Network, which functions as a joint social media and online gamer community, allowing players who enjoy online multiplayer gaming ease of access to locating friends from around the world who have equal interests in specific games and types of play within such games. MyLife Network is considered the child of Facebook/MySpace style social media and the Playstation Network/XBOX Live gaming networks.
MyLife features a fully editable social media profile, displaying the gamer tag as the main profile screen name, the ability to post an avatar, either from a selection of MyLife II avatars available or through the uploading and posting of personalized avatars or utilizing the MyCam accessory to take a photo and upload as an image. Profiles allow players to add selection of types and genres of video games, both PC style and console based, other systems they own and play on and locate and select every game they own and add it to a listing of games they have. Like the Playstation 3, 4 trophies and the XBOX 360 and XBOX ONE achievements, MyLife medallions appear on the gamer profile, including experience level and skill level information for each online game. Users may customize their MyLife Network profiles with About Me information and add a national flag for a basic location. Users with accounts registered over the age of 18 may post additional data, such as age and their home city and state or province in addition to their national flag.
MyLife Network also allows players to add listings of their favorite movies through a joint Netflix/MyLife venture, which allows gamers to also join a chat room and watch movies and television together from programs such as Netflix, Hulu, Crackle and Amazon video, as long as the registered age is over 18. Profiles can also allow the selection and listing of favorite musical artists through joint projects with Rhapsody.
MyLife MMO
MyLife II includes the standard free online multiplayer world originally featured on the first MyLife console. As of the November 2013 release of MyLife II, the MyLife MMO ran on Version 4.0 and received two further software updates by December 1st, 2013, Versions 4.1 and 4.25. MyLife II and older MyLife "One" consoles run the same MMO game, with the same installed versions. There are no significant differences between the two consoles function and game-play of the MMO. MyLife II graphics are partially enhanced and the console features faster hardware for loading servers and in-game regions than the MyLife "One". MyLife II has a new feature although, which allows players to utilize Google Maps Street View, allowing players to see what the real world looks like in comparison with the virtual recreation. The interesting feature on MyLife II allows players to dial in addresses and locations as one would search on Google Maps or Google Earth and transport their avatar to that location.
MyLife II allows players to provide information and updates to MyLife developers regarding stores and changes in the real world so updates are applied appropriately through Google Maps and Street View and in game, including changes in streets, buildings, construction or other changes in the real world that can be changed to match reality. The joint venture between Google and MyLife allows Google Maps to keep fully updated on its ability to give proper directions and information for travel on its websites and for MyLife to maintain an updated and realistic world environment.
MyTravel is expected to be implemented by January of 2014, utilizing the Google-MyLife functions, allowing players to use the open-world environment to plan road trips, vacations and preview entire locations before going in the real world. Most notably, the MyTravel system will allow tourism companies to provide potential visitors with a fully 3D rendering of their properties, including hotels, parks and other attractions, in which a player can preview with their avatar before going in the real world. 3D renderings proposed include cruise ships, hotels, casinos and theme and amusement parks. Lodging companies including Hilton Hotels, Carnival Cruise Lines, Disney, NBC-Universal, Trump and MGM Grand have expressed interest in including detailed recreations of their properties.
Games
MyLife II comes standard with the updated software for the MyLife MMO as Software Update 4.0. MyLife MMO, referred to as Open-Explorable World (OEW) on MyLife II, remained the same entirely, as the MYL1 latest version of Version 3.875. OEW updated on all older MYL1 consoles to Version 4.0 upon the release of MyLife II in stores.
In addition to OEW, MyLife continues the pattern of full backwards compatibility with Sony video games from Playstation 1 to Playstation 3. Playstation 4 games will have no function on the new system however. Based on the Quantum Arctica operating system, MyLife II will be fully capable of reading most PC games and running them if the user has a keyboard and mouse attached to the USB ports, making Windows games from XP, Vista and 7 playable on the console.
Featured games coming out separately for the first time with discs marked as "Quantum MyLife" will include Battlefield 4, Infamous: Second Son, Killzone: Shadow Fall, Assassin's Creed IV: Black Flag, Grand Theft Auto V, Armageddon: Rise of Demons, Immortalia: Dark Vengeance, Frontline: America, Tom Clancy's Splinter Cell: Blacklist and Tom Clancy's Rainbow 6: Patriots.
E3 2013
During its presentation and formal announcements at the annual video gaming convention, E3, MyLife II was reviewed by game industry critics as a powerful rival of Sony and the PlayStation 4, which was also fully unveiled.
As did Sony and the PS4 "destroy" its competition with Microsoft's XBOX ONE, MyLife II was claimed by critics to have "dealt the final blow to XBOX" with features equivalent of the PS4, including Quantum Inc's long time statements that MyLife II would not inhibit or prohibit the ability of players to share games with friends, trade or sell games to retailers, use pre-owned or used games and at no point must games be registered, licensed or activated to specific systems. MYL-II, as it is abbreviated in short, was announced to have a retail price of $449.99, $50 cheaper than the XBOX ONE, yet $50 more costly than the PS4. To compensate for a higher price, MYL-II alleges superior graphics, which were displayed at E3 2013, proving Quantum video graphics superiority over Sony or Microsoft, complete backwards compatibility including pre-licensed MYL-1 PS, PS2 and PS3 video games, pre-installed Sega and Atari classics and fully computer ability to run Windows and Arctica OS for playing PC gaming. MyLife II's ability to run PC games and run Windows, Arctica or Linux was reported to have "blown Sony's PS4 out of the water".
MyLife II announced that it would have no mandatory internet connection to use the system. Unlike the MyLife "One", MyLife II will feature a controller game pad and a headset with microphone as standard in every retail package. MYL-II announced video game controllers will not have any touch screen functions like the PS4 controllers but feature the ability to use an infrared remote to control a television. Additional accessories were announced to cost $35 per controller pad, $27 for a gaming keyboard, $15 for a microphone headset, $55 for the MyCam webcam, $20 for a gaming mouse and $50 for a charging dock instead of a charge cord (which comes standard).
Ad blocker interference detected!
Wikia is a free-to-use site that makes money from advertising. We have a modified experience for viewers using ad blockers

Wikia is not accessible if you've made further modifications. Remove the custom ad blocker rule(s) and the page will load as expected.