NASAMS

NASAMS launcher
Type
Surface-to-air missile system
Place of origin
Kalmar Union
Service history
In service
1998–
Used by
Kalmar Union, Spain, The Netherlands, Australia, Chile, Baltic Federation
Production history
Designer
Kongsberg Defence & Aerospace and Raytheon
Manufacturer
Kongsberg Defence & Aerospace
Unit cost
$180 million for radar, control systems, 4 launchers, & 32 missiles
Variants
NASAMS, NASAMS 2
Specifications

---

Operational
range
>200km with AMRAAM ER missiles
Flight altitude
12,000 meters
NASAMS is a distributed and networked medium to long range air-defence system. NASAMS was the first surface-based application for the AIM-120 AMRAAM (Advanced Medium Range Air-to-Air Missile) and the first surface-to-air missile system in the western world with active radar guidance. The missile itself is named SL-AMRAAM (Surfaced Launched AMRAAM).
Development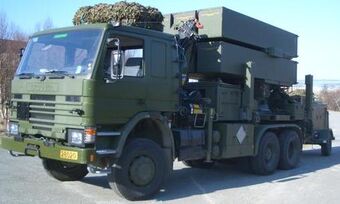 Kalmar Union company Kongsberg Defence & Aerospace teamed up with Raytheon and initiated the NASAMS programme as a cooperative effort for the Kongelige Luftforsvaret . The state-of-the-art network-centric air defence system NASAMS was declared fully operational capable in 1998 but had an initial operational capability as early as in 1994/95.
Users
In addition to Kongelige Luftforsvaret, NASAMS has been exported to Spain and the Netherlands.
Description
The system integrates a SENTINEL 3D-Radar and AIM-120 AMRAAM missiles with an indigenously developed BMC4I system called FDC, short for Fire Distribution Center. The FDC connected to a TPQ-36A radar forms an "Acquisition Radar and Control System" (ARCS). The missile has a range of up to 25 km.
A complete NASAMS 2 battery consists of 12 missile launchers (LCHR) (each one carrying six AIM-120 AMRAAM missiles), eight radars (AN/MPQ-64 Sentinel F1 Improved Sentinel X band 3D radar), one fire control centre (CTOC), one electro-optical camera vehicle (MSP500) and one Tactical Control Cell (TCC) vehicle.
NASAMS II
Kongsberg Defence & Aerospace
developed a mid-life update of the NASAMS, called NASAMS II, and the upgraded version was first handed in mid 2006. Full operational capability (FOC) was achieved in 2007. The upgrades consists of: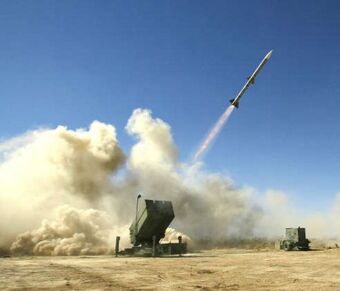 New radars, which can be mounted on a variety of vehicles. The radars have their own power supply and can process and distribute the data independently. The vehicles can be connected via radio links, cable, through MRR, or through TADKOM.
The radars have a larger frequency spectrum and variable rotation speeds, and also an increased capacity to spot and follow targets.
Each module can automatically define its position with its northfinder and GPS instruments.
The control centre modules can be mounted on a large variety of vehicles
The electro-optical MSP500 sensor is equipped with a laser range finder and a TV-camera, as well as an upgraded IR-camera. These can be used to fire the missiles passively, which has been successfully tested.
The control system can detach itself from the sensors, in order to become less visible.
AMRAAM ER
On 22 February 2015, Raytheon announced the development of the Extended Range upgrade to the NASAMS AMRAAM missile offering (AMRAAM-ER). Development work began in 2014, and the missile is actually an Evolved Sea Sparrow Missile using AMRAAM guidance. The first flight test took place in August 2016 and the missiles will enter into service along 2018.