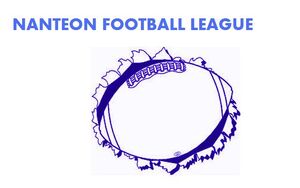 The Nanteon Football league is the highest level of profession Football in the Kingdom of Nanteos. The NFL consists of 8 Nanteon teams. Its most recent champion is the Acornia Freedom.
History
Pre-League
In King George I reign the city of Friendship challenged the city of Nanteos to a football game. The two teams met in the nuetral ground of Acornia to play the game. The game ended in a 6-6 tie, but it gave the Kingdom of Nanteos a taste for football that would not be outdone.
The League Forms
In the reign of King William III, teams from Friendship, Acornia, Nanteos, and Starfell formed the Nanteon Football League. Through the course of time teams in Noirville, Soutbeach, Jack's City, and Jasper would be formed. These make up the current teams in the league.
Merge with the SFA
King William III suggested a merger with the Sillian Football Association to show the untiy between the two countries. Shortly after, the NFL and SFA merged to form the Dirion Football League.
DFL and departure
In the Dirion Football League, Nanteon teams would capture exactly 50% of the championships played against their Sillian counterparts. After the death of Carter Simms, Chancellor James Lanttern suggested the eight Nanteon teams leave the DFL, because of the tension with Silla. The eight Nanteon teams would leave the DFL and re-form the Nanteon Football League. The first NFL champion would be the Nanteos Knights and the current and fourth champion is the Acornia Freedom.
Teams
The league has eight teams; all of them are based on the city they are in. The following is a list of the teams:
Nanteos Knights
Friendship Swing
Jack's City Bulldogs
Acornia Freedom
Jasper Eagles
Noirville Atomics
Southbeach Hurricanes
Starfell Daedra
Structure
Conferences
The teams are divided into two conferences. Nanteos, Jasper, Starfell, and Acornia in the east. Friendship, Southbeach, Jack's City, and Noirville in the west.
Championships
Each team plays every team twice. Once at the opponents stadium and once at their own. The top two teams by record in each confrence then play for the right to go to the championship game. Once a west and east champion is crowned they play for the Johnny Mayfield trophy. The Johnny Mayfield trophy is the trophy the winner of the Kingdom Championship receives. It is named after legendary Friendship Swing running back Johnny Mayfield.
Championship history
To date, only 3 teams have won the Johnny Mayfield trophy. Friendship, Nanteos, and Acornia have all won the trophy. Friendship has won it twice.
Ad blocker interference detected!
Wikia is a free-to-use site that makes money from advertising. We have a modified experience for viewers using ad blockers

Wikia is not accessible if you've made further modifications. Remove the custom ad blocker rule(s) and the page will load as expected.