The armed forces of the
Kingdom of Nanteos
is the second largest in
Diro
and the third largest in
Jakovia
(behind the nations of
Silla
and
Varland
). It is arguably one of the best equipped and trained in the world. The Nanteon armed forces have fought and won such wars as the
1st Avalonian War
,
Calvert Civil War
,
Felate Isles War
, and the
Camel's Back Campaign
.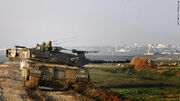 History
The Nanteon Military has fought in four wars (in which it one all four). The longest of which was the Felate Isles War in which it fought alongside the armed forces of Silla.
Branches
The Nanteon military has four branches. It operates a Navy, Air Force, and Army as well as a fourth branch known as the Lion Guard. The Lion Guard is the king's private army which in modern times is used to guard not only the king, but other federal officials as well. Although not an official entity of the Nanteon military the Knights of Nanteos often work alongside the Nateon military during war time.
Command Structure
The King of Nanteos is the commander in chief of the Nanteon Military. He appoints an officer of any branch to head the entire military known as the Marshall of the Nanteon Military. Under the Marshall are the heads of each respective branch. There are eight officer ranks in the Nanteon military ranging from Lieutenant to General/Admiral. There are also 8 enlisted ranks ranging from private to Master Sergeant/Master Petty Officer.
Headquarters
The headquarters of the Nanteon military is located in Crowe's Nest at Fort Monsoon.
Ad blocker interference detected!
Wikia is a free-to-use site that makes money from advertising. We have a modified experience for viewers using ad blockers

Wikia is not accessible if you've made further modifications. Remove the custom ad blocker rule(s) and the page will load as expected.