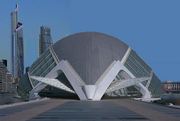 The National Pavillion is a large multi-purpose space, convention centre, theatre, art gallery, and social meeting place located on Spike Island, in central Bristol. Opened in 2003, as part of the
National Quay
development, the pavillion was built on the site of former warehouses and industrial buildings. The National Pavillion has become a major tourist attraction in Bristol. The Pavillion was designed by architect Benedict Jarvis, taking a large amount of inspiration from modern spanish architecture. 
Much of the space is located underneath the pavillion itself, which is surrounded by artificial pools. Underneath the building houses a theatre, art gallery and exhibition space, a convention and exhibiton centre, a resturaunt and bar, and a large amount multi-purpose space. Above ground, the pavillion itself houses a Grand Entrance which is accesable by vehicle when the 'hangar' type doors are opened. 
Ad blocker interference detected!
Wikia is a free-to-use site that makes money from advertising. We have a modified experience for viewers using ad blockers

Wikia is not accessible if you've made further modifications. Remove the custom ad blocker rule(s) and the page will load as expected.