New Bay City Metro Network
Talk

4
10,418pages on
this wiki
New Bay City Metro Network

Type
Rapid transit
Status
Active
Location
New Bay City
Matagorda Bay Area
Stations
32
Services
Yellow Line
Green Line
Red Line
Purple Line
Daily ridership
150,000~
Owner
New Bay City Department of Transportation
Website
http://nbcmetro.com
The New Bay City Metro Network (commonly just the Metro Net) is a mostly elevated rapid transit serving New Bay City and the Matagorda Bay Area. The Network operates four lines with 32 stations and has a daily ridership of 150,000 passengers. New Bay Central Station is the largest station in the Network in terms of size as well as passenger count. Central Station runs an intercity line north to San Antonio.
There are a total of 32 stations altogether throughout New Bay City. Because of being located near a water-source: the Gulf of Mexico, most of the Network is elevated. However, stations such as the Defense Building Station and City Hall Station are located underground. The busiest station in size is New Bay Central Station, followed by Sammy Heights Station, which is the largest in terms of passenger count. The Network also hosts several facilities, such as:
Connecting services
Edit
The Metro Network has a direct connection with one regional rail service at New Bay Central Station: Textrain, which connects New Bay City and San Antonio via Victoria. The Metro Network also connects to the local commuter bus service, the New Bay City Commuter Bus System, which has a bus terminal at each station. Switch stations such as Sammy Heights Station and Embassy Park Station also host car sharing locations. Passengers must register a vehicle beforehand. The Metro Network also connects at Matagorda International Airport via Matagorda Int'l Station, in the airport parking lot.
| | Line Name | Opened | Number of stations | Station names |
| --- | --- | --- | --- | --- |
|   | Green Line | 2010 | 14 | Sammy Heights, Fortis, Wichita, Freedom Park, Aransas, Museum, Bay View, Calhoun Square, Liberty Heights, Winter Plaza, Central Calhoun, Trust, Central Calhoun, Lavanca Tower, New Bay Central Station |
|   | Yellow Line | 2010 | 8 | Sammy Heights, Commerce, Matagorda Int'l, New Bay Central Station, City Hall, Federal, Embassy Park, Keller Complex |
|   | Purple Line | 2011 | 4 | City Hall, Civic Center, EcruTower, Defense Building |
|   | Red Line | 2010 | 14 | Sammy Heights, Fortis, Lone Star, Richman, Trust, University, Embassy Park, Defense Building, Texas Park, Riverside, United States, Midvale, Harbor, Lake Austin Park |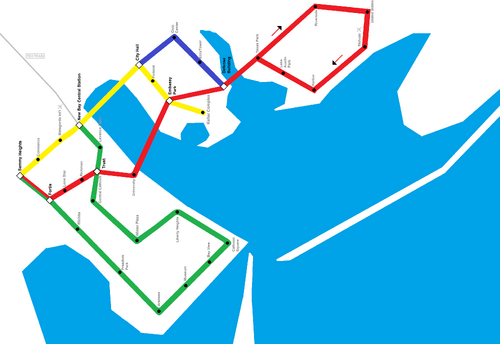 Rolling stock
Edit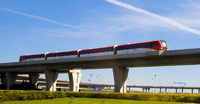 The Network operates the new
EcruRail Type 1
car on all lines except the Purple Line, where the EcruRail Type 2, which is more advanced and luxurious, is operated. The usage of these cars were part of the agreement with the EcruFox Corporation when they built the rail; they gave a discount and the New Bay City Municipal Government agreed to use their cars.
See Also
Edit
New Bay City Metro Network
Main
Green Line: Sammy Heights, Fortis, Wichita, Freedom Park, Aransas, Museum, Bay View, Calhoun Square, Liberty Heights, Winter Plaza, Central Calhoun, Trust, Central Calhoun, Lavanca Tower, New Bay Central Station
Yellow Line: Sammy Heights, Commerce, Matagorda Int'l, New Bay Central Station, City Hall, Federal, Embassy Park, Keller Complex
Purple Line: City Hall, Civic Center, EcruTower, Defense Building
Red Line: Sammy Heights, Fortis, Lone Star, Richman, Trust, University, Embassy Park, Defense Building, Texas Park, Riverside, United States, Midvale, Harbor, Lake Austin Park