The Northerseyan Assembly, commonly referred to as the Asembly, was the legislature of Northersey during it's time as a devolved country in the United Kingdom. There were seven sessions from 1898 to 1931. The Assembly was dissolved and succeeded by the national legislature, the Parliament of Northersey.
Establishment
The Assembly was established when the Parliament of the United Kingdom granted devolution to Northersey in 1885. Sir George Rees, the leader of the National Party of Northersey, was the first First Minister. Before his election, he was the leader of the devolution movement that bought Northersey it's first government and legislature. He oversaw the construction of the Assembly Building that after only a year and a half of construction housed the 51 member chamber and offices.
Governments
There were a total of seven sessions of the Assembly, each lasting four years. They are as follows along with the First Minister's who led them, noted next to the corresponding party. During the time of Northersey's devolved state, there were three main political parties - similar to modern day - the Labour Party, the Conservative Party and the National Party.
1st Assembly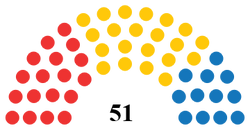 Labour (18)
     National (21) | First Minister George Rees
     Conservative (12)
2nd Assembly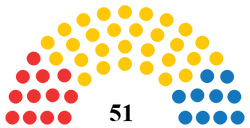 Labour (12)
     National (29) | First Minister George Rees
     Conservative (10)
3rd Assembly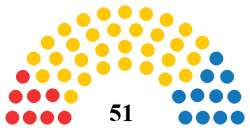 Labour (8)
     National (32) | First Minister George Rees
     Conservative (11)
4th Assembly
     Labour (13)
     National (18)
     Conservative (21) | First Minister Albert Richardson Morris
5th Assembly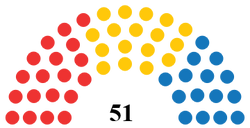 Labour (19) | First Minister Alexander Webb
     National (17)
     Conservative (15)
6th Assembly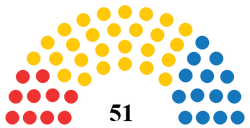 Labour (10)
     National (27) | First Minister Benjamin Collier
     Conservative (14)
7th Assembly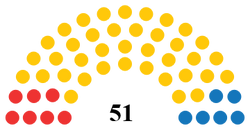 Labour (7)
     National (38) | First Minister Benjamin Collier
     Conservative (6)