Konungsríkið Tórey
Official language
Ostnian
Capital
Regenviche
Area
103,034 km²
Population
Density
34,290,391 (January 3rd, 2006)
332.8/km²
Independence (from Denmark)
August 13, 1645
Treaty of Brömsebro
King
Jóhannes III
Prime Minister
Ólafur Víkblöð
Ostnia is an island kingdom in the Atlantic Ocean. The nearest country in the north is Nannica, and Faroe Islands are in the south. To the east is Svalbardian autonomous area of Jan Mayen.
Subdivisions
Ostnia is divided in mid-level to 13 counties (Ostnian: sing. sýsla, plur. sýslur) and a capital region. In contrast to other European constitutional monarchies, these counties are actually led by their counts (Ostnian: sing. kuntur, plur. kuntar) or countesses (kýntes, kýntesir), rather than by elected officials.
Counties:
Arneda
County of Regen (Reykjada)
Dalata
Ferd
Glem
Húnavatneda
Múlasta
Mýrada
Skaftafelta
Snaefelta
Strandata
Thingeyjarda
Vestmenda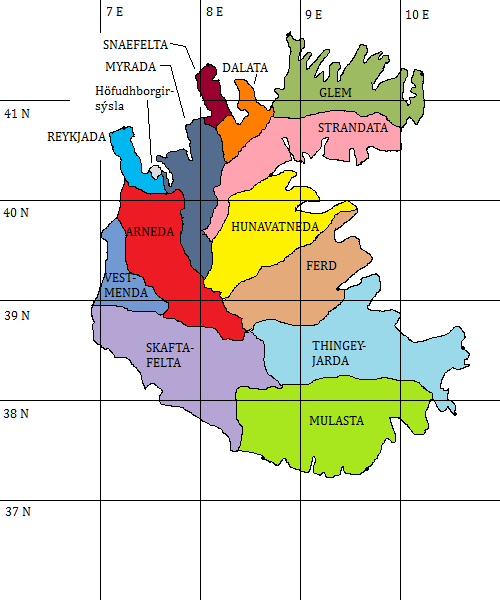 Further, Ostnia is divided to 496 municipalities.
Municipalities with over 250000 inhabitants:
Regenviche (Reykjavík), 1,699,000 inhabitants
Acourire (Akureyri), 957,000 inhabitants
Hofen (Höfn), 912,000 inhabitants
Holl (Hóll), 755,000 inhabitants
Kephelviche (Keflavík), 502,000 inhabitants
Skinnastaðir, 413,000 inhabitants
Mosfellsbaer, 396,000 inhabitants
Kópavogur, 371,000 inhabitants
Borgarnes, 298,000 inhabitants
Garðabaer, 272,000 inhabitants
Borðeyri, 253,000 inhabitants
Climate
Regenviche (Ostnian: Reykjavík):
38°N, 8°E
on coast
January +15°C, rainfall 54 mm
July +25°C, rainfall 76 mm
annual precipitation 1094 mm, wettest month is October
Vobenviche (Ostnian: Vopnafjörður):
35°N, 10.5°E
on coast
January +19°C, rainfall 48 mm
July +26°C, rainfall 285 mm
annual precipitation 1943 mm, wettest month is August
Akureyri:
36.5°N, 10.5°E
on coast
January +18°C, rainfall 64 mm
July +27°C, rainfall 264 mm
annual precipitation 2635 mm, wettest month is August
Hveravellir:
37°N, 9.5°E
inland
January +12°C, rainfall 56 mm
July +26°C, rainfall 72 mm
annual precipitation 995 mm, wettest month is November
Ad blocker interference detected!
Wikia is a free-to-use site that makes money from advertising. We have a modified experience for viewers using ad blockers

Wikia is not accessible if you've made further modifications. Remove the custom ad blocker rule(s) and the page will load as expected.