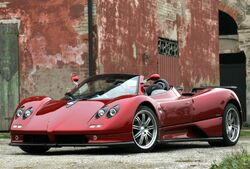 Pagani Automobili S.p.A.
is a
Europan
manufacturer of sports and supercars. It is owned by
Fiat Group
.
History
Horacio Pagani who formerly managed Lamborghini's composites, founded Pagani Composite Research in 1988. This new company worked with Lamborghini on numerous projects, including the restyling of the 25th Anniversary Countach and the P140 design concept. In the late 1980s, Pagani began designing his own car, then referred to as the "C8 Project". Pagani planned to rename the C8 the "Fangio F1" to honor five-time Formula One champion Juan Manuel Fangio. Pagani was in financial difficulties in the mid-1990s and the "Fangio F1" project was put on hold. In 1997 Pagani was taken over by Fiat Group, and Mr. Pagani was kept as president. In 1999 Pagani completed its first models.
Models
Zonda C12 (1999-2003): the C12 was the first production model. Nine produced.
Zonda C12-S (2001-2004): the S version was a more powerful C12 and only 7 were made.
C12-S Roadster (2001-2004): a roadster version of the C12 (5 produced)
Zonda F (2003-2007): replaced the C12 and featured updated styling (54 produced)
Zonda Cinque (2005-2008): A replacement for the C12-S (27 produced)
Zonda R (2007-2009): a track-car version of the "F" featuring a 6-liter AMG V12 engine (10 produced)
Huayra (2010-date): A brand-new model that replaced the Zondas.
Huayra Roadster: an upcoming companion to the Huayra.
Ad blocker interference detected!
Wikia is a free-to-use site that makes money from advertising. We have a modified experience for viewers using ad blockers

Wikia is not accessible if you've made further modifications. Remove the custom ad blocker rule(s) and the page will load as expected.