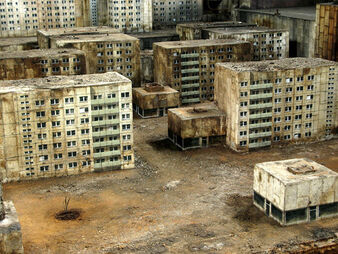 Palmyra is an abandoned city located in the central United Emirates.
History
Construction of Palmyra began in 1958. By then communist rebels were in control of the south and they were allied with the Soviets. The rebels wanted a world-class capital, so they hired Soviet constructors. Work began swiftly and the city was soon occupied by soviet soldiers, scientists and their families. In 1962 The Royalist Army besieged Palmyra and it was heavily shelled. By then it was largely abandoned. Since the war it has deteriorated almost completely, except for a few buildings around the central plaza.
Ad blocker interference detected!
Wikia is a free-to-use site that makes money from advertising. We have a modified experience for viewers using ad blockers

Wikia is not accessible if you've made further modifications. Remove the custom ad blocker rule(s) and the page will load as expected.