Panau Police Force


Pasukan Polis Panau
பாணஉ காவல் துறை
Abbreviation
PPF

Logo of the Panau Police Force.
Motto
Adil, Tegas, Melindungi
Agency overview
Legal personality
Governmental: Government agency
Jurisdictional structure
National agency
Panau
General nature
Operational structure
Sworn members
41,543
Agency executive
Tengku Adiputera, Commissioner of Police
Parent agency
Ministry of internal Affairs
Departments

17

Administration and Finance
Crime Investigation
Manpower
Operations
Planning and Organisation
Police Custodial
Police Logistics
Police National Service
Public Affairs
Security Industry Regulatory
Service Development and Inspectorate
Training Command

Line units
Facilities
NPC/NPPs
103
Police boats
51
Website
http://www.panaupolice.gov.pn/
The Panau Police Force (Abbreviation: PPF; Malay: Pasukan Polis Panau; Tamil: பாணஉ காவல் துறை) is the main agency tasked with maintaining law and order in state.Formerly known as Panau National Police (Abbreviation: PNP; Malay: Polis Nasional Panau), it has grown from an 9-man organisation to a 41,543 strong force. It enjoys a relatively positive public image,and is credited for helping to arrest Panau's civic unrests and lawlessness in its early years, and maintaining the low crime rate today despite having a smaller police-citizen ratio compared to other major cities.Panau has been ranked consistently in the top twenty positions in the Global Competitiveness Report in terms of its reliability of police services.
The organisation structure of the PPF is split between the staff and line functions, roughly modelled after the military.There are currently 17 staff departments and 6 line units. The headquarters is located in a block at Financial District in Panau City, adjacent to a twin block occupied by the Ministry of Internal Affairs.
Organisation structure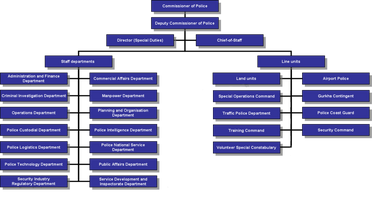 See Also
Ad blocker interference detected!
Wikia is a free-to-use site that makes money from advertising. We have a modified experience for viewers using ad blockers

Wikia is not accessible if you've made further modifications. Remove the custom ad blocker rule(s) and the page will load as expected.