Draguan passport



The front cover of a Draguan ePassport




Personal data page from a model 108's Draguan passport

Issued by
Republic of the Draguan Islands
Type of document
Passport
Purpose
International travel
Eligibility requirements
Draguan nationality
Expiration
6 years after acquisition for both adults and children
A Draguan passport is a document of identification, issued to people with a Draguan nationality. Upon obtaining the document, a passport is validable for 6 years for both adult and children. Although the Draguan Islands are not a member state of the European Union, the passport complies to the rules (EG 2252/04) specified by the European Union. Since January 1st, 2007 all passports are issued as a biometric passport with an embedded contactless smartcard RFID chip for storing biometric data.
Physical Appearance
The passport is colored dark-reddish, with mustard colored letters, indicating Republic of the Draguan Islands and Passport in all four languages of the Draguan Islands, portraying the figure of an Iguana on front, and also features the ICAO biometric passport symbol Symbol for biometric passports at the bottom of the cover.
Personal data page
The Draguan passport includes the following data on the personal data page:
Photo of passport Holder
Nationality
Card number
Type (P)
Code (DRG)
Card number
Surname
Sex
Given Names
Height
Date of birth
Place of birth
Personal (Identification) Number
Date of issue
Date of expiry
Height
Authority
Signature
The passport's main language is English, but captions are provided with Dutch, Afrikaans and Japanese translations of every item.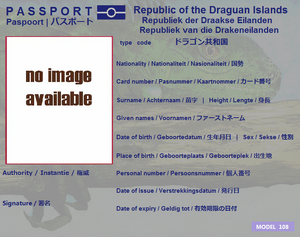 The personal data page of the passport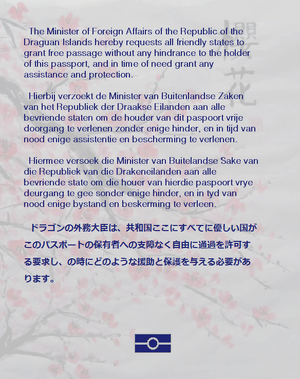 The inside cover of the passport
Ad blocker interference detected!
Wikia is a free-to-use site that makes money from advertising. We have a modified experience for viewers using ad blockers

Wikia is not accessible if you've made further modifications. Remove the custom ad blocker rule(s) and the page will load as expected.