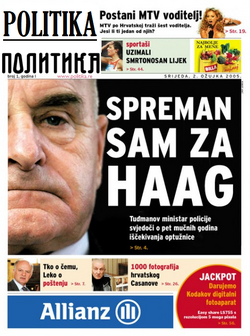 Politika is a major Europan newspaper. It is considered the newspaper of record and is the oldest daily in the Balkans, having been founded on January 25, 1904 by Vladislav Ribnikar. The name was originally written in Serbian Cyrillic as "Политика", which is still kept for domestic papers. It is currently being published by Europa Press Agency Group.
Politika circulates throughout all of Europa. It is published in a Serbo-Croatian, Italian and Slovenian edition which prints the same national news, but with differing local stories. Politika was from 1970-1998 also printed in France. Since 2000 Politica has gone online (at the site www.politika.re) and is available in Serbo-Croatian, Italian, Slovenian, Albanian and Macedonian. There is also a French-language edition (for France and Belgium) a German-language edition (for West Germany, Austria and Switzerland) and an English-language one.
See also
Ad blocker interference detected!
Wikia is a free-to-use site that makes money from advertising. We have a modified experience for viewers using ad blockers

Wikia is not accessible if you've made further modifications. Remove the custom ad blocker rule(s) and the page will load as expected.