Caprica is made up of twelve prefectures, all of which are represented in the Quorom of Twelve. The prefectures are each governed by a Prefect, and a Prefectoral Council, located in the prefecture's capital. Each Prefecture has the same amount of representation in the government.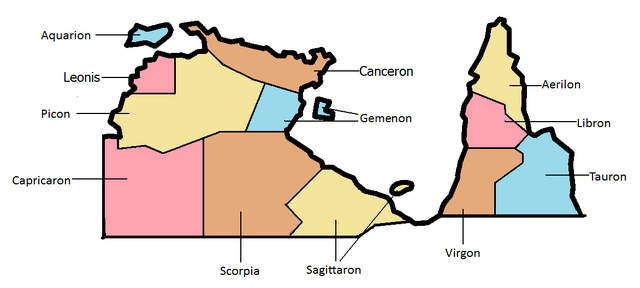 Prefectures
Aerilon
Capital: Weipa
Population:
Interest: Mungkan Kandju National Park, Jardine River National Park
Aerilon is the northen-most prefecture of Caprica, located on the northern part of the Staaten Peninsula. The prefecture is the most undeveloped of the twelve prefectures, and houses two major national parks. Aerilon's capital, Weipa, has grown from a small town in 2037, to a large bustling small city, that is a major cultural centre in Caprica. Other major towns in the prefecture include Rocky Point, which has merged into Weipa, and Cooktown. Aerilon borders Libron and Tauron to the south, and the Pacific Ocean to the north, east and west.
Aquarion
Capital: Aquaria
Population:
Interest: Melville Island, Bathurst Island
Aquarion encompasses both Melville Island and Bathurst Island, north of Leonis Prefecture. Aquarion is the smallest and the least developed prefecture, outside of its capital, Aquaria. Aquarion is best known for its flat land and its vast forests.
Canceron
Capital: Nhulunbuy
Population:
Interest: Gurig National Park
Canceron is one of the most developed prefectures, with its capital, Nhulunbuy being just a small town in 2037, and it is now one of the largest cities in Caprica. Canceron spans the northwest of the country, bordering Gemenon and Picon the south, and the Pacific Ocean to the north.
Capricaron
Capital: Katherine
Population:
Interest: Nitmiluk National Park
Capricaron is one of the largest prefectures, along with Scorpia and Picon. Capricaron is mostly arid and grasslands, although agriculture is a major industry in the prefecture, with large commercial greenhouse surrounding the capital city of Katherine, and the city of Oranu. Capricaron borders Australia to the south and west, Scorpia to the east and Picon to the north.
Gemenon
Capital: Gemini
Population:
Interest: Gemini University, Groote Island
Leonis
Capital: Darwin
Population:
Interest: Djukbinj National Park
Libron
Capital:
Population:
Interest:
Picon
Capital:
Population:
Interest: Kakadu National Park
Sagittaron
Capital: Sagittara (Also National Capital)
Population:
Interest: National Capital, University of Caprica
Other Names: Capital Prefecture
Scorpia
Capital:
Population:
Interest:
Tauron
Capital:
Population:
Interest:
Virgon
Capital:
Population:
Interest:
Ad blocker interference detected!
Wikia is a free-to-use site that makes money from advertising. We have a modified experience for viewers using ad blockers

Wikia is not accessible if you've made further modifications. Remove the custom ad blocker rule(s) and the page will load as expected.