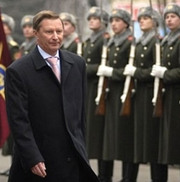 The Office of State Secretary
Georgi Tzorevich
is the only authority in
East Bulgaria
which is authorised to anounce all official news.
March 5: S.S. Tzorevich issues a personal congratulations to Scandinavian government in its definance of western capitalist pigs and said ithas The Republic's full support.
Feb. 16, 2012: The Republican Government released a statement saying that recent attempts at sanctioning the Republic is an attempt by the west to undermine the national sovereingty. All other accounts are completely false.
Feb. 15, 2011: Cash withdrawls at banks are temporarily suspended.
Feb. 9, 2012: Recent "bizarre global sounds" announced by Everett have been derided as a frearmongering hoax to scare the population in linewith government interests.

Feb. 9, 2012: In preparation for war, the National Mint has announced all coins will be made from wood in order to save metal for the war effort.
Feb. 9, 2012: Europa has harassed various Middle Eastern nations and the State Secretary made it clear he would not tolerate this and would even go to war
Feb. 1, 2012: The Euro has been removed from the illegal curencies list followingits devaluation.
Ad blocker interference detected!
Wikia is a free-to-use site that makes money from advertising. We have a modified experience for viewers using ad blockers

Wikia is not accessible if you've made further modifications. Remove the custom ad blocker rule(s) and the page will load as expected.