A province is the highest tier of local country government subdivisions in Cerberussy. Provinces are further divided into regencies and cities.
Background
Each province has its own local government, headed by a governor, and has its own legislative body. The governor and members of local representative bodies are elected by popular vote for three-year terms.
History
Cerberussy has 25 provinces, four of which have special status:
The provinces are officially grouped into five geographical units.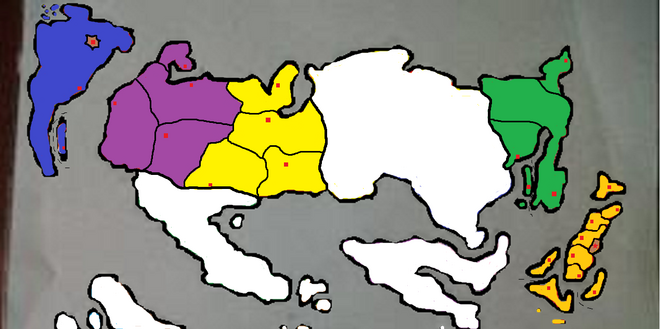 Grexica (blue), Magran (purple), Ngato (yellow), Shyatland (green), Islands of Cerberussia (orange)
Until October 31, 2329
The following are the provinces with their capitals based on their geographical units.
Grexica
Magran
East Magran - Bungii
Meguta - Risansen
Sphesteria - Tuors
West Magran - Unarto
Ngato
Central Ngato - Mamaga
North Ngato - Moralan
Shepardia - Thamsan
Southeast Ngato - Kasenor
Shyatland
Islands of Cerberussia
Current Provinces
Following the Act of Decolonization 2329, provinces of Magran and Ngato became vassal states under Greater Cerberussy.
Grexica
Shyatland
Islands of Cerberussia
Ad blocker interference detected!
Wikia is a free-to-use site that makes money from advertising. We have a modified experience for viewers using ad blockers

Wikia is not accessible if you've made further modifications. Remove the custom ad blocker rule(s) and the page will load as expected.