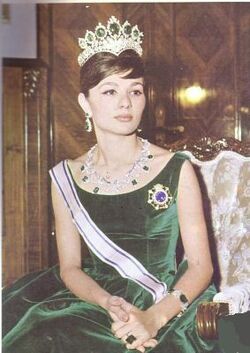 Basma bint Talal
(born 11 May 1951) is the Queen Mother of the
United Emirates
.
Biography
Basma was born in 1951 to King Talal of Jordan and Queen Zein. A year later her father abdicated for health reasons and her elder brother, Hussein became king. Basma was educated at Ahliyyah School in Amman, then in England at Benenden School (where she was a friend of Princess Anne) and Oxford University, where she read Modern Languages. In 1969 she met Prince Hussein of the United Emirates,whom she married in 1970. In 1971 the King died, so she and Hussein were crowned monarchs. The queen was soon popular with the people of the Emirates. In 1971 she had her first child, Princess Mona and in 1973 the future King Faisal II.Upon Hussein's death in 2009 her son became the king and she was made the Queen mother.
Ad blocker interference detected!
Wikia is a free-to-use site that makes money from advertising. We have a modified experience for viewers using ad blockers

Wikia is not accessible if you've made further modifications. Remove the custom ad blocker rule(s) and the page will load as expected.